North American P-51 Mustang
(Variants/Other Names: A-36 Apache; NA-73; See History below for others)
---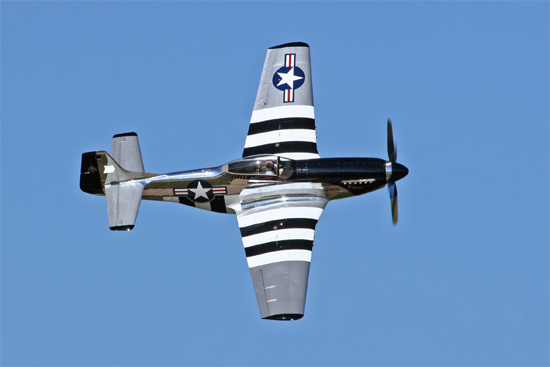 The classic lines of A P-51 Mustang need no explanation.
Photo by Buck Wyndham
History: One of the most effective, famous and beautiful fighter aircraft of WWII, the P-51 was designed to fulfill a British requirement dated April 1940. Because of the rapidly-mounting clouds of war in Europe, the UK asked North American Aircraft to design and build a new fighter in only 120 days. The NA-73X prototype was produced in record time, but did not fly until 26 October 1940. The first RAF production models, designated Mustang Mk Is, underwent rigorous testing and evaluation, and it was found that the 1,100-hp Allison engine was well suited for low-altitude tactical reconnaissance, but the engine's power decreased dramatically above an altitude of 12,000 feet, making it a poor choice for air-to-air combat or interception roles. Because of this, the RAF left its eight machine guns intact, but also fitted the Mustang with cameras. In this configuration, it served in at least 23 RAF squadrons, beginning in April 1942.
At the same time, the US Army Air Corps ordered a small number for tactical reconnaissance evaluation as the F-6A. After the RAF found the aircraft's performance lacking, they tested a new engine, the 12-cylinder Rolls-Royce Merlin. This gave much-improved performance, and led to the USAAF fitting two airframes with 1,430-hp Packard-built Merlin V-1650 engines. These aircraft were re-designated XP-51B. Practically overnight, the aircraft's potential began to grow.
Since the RAF had had good success with the Mustang in a ground attack role, the USAAF bought 500 aircraft fitted with dive brakes and underwing weapons pylons. These were initially designated the A-36A Apache, but later retained the name Mustang. Almost simultaneously, they ordered 310 P-51As with Allison engines. Some of these were delivered to the UK as Mustang Mk IIs, and some became F-6B reconnaissance aircraft for the USAAF.
The first Merlin-engine versions appeared in 1943 with the P-51B, of which 1,988 were built in Inglewood, California, and the P-51C, of which 1,750 were built in Dallas, Texas. Both new versions had strengthened fuselages and four wing-mounted 12.7-mm machine guns. Many of these new Mustangs were delivered to the UK as Mustang Mk IIIs, and others went to the USAAF as F-6Cs. The Merlin-powered Mustangs were exactly what the Allied bombers in Europe desperately needed, and they became famous for their long range and potent high-altitude escort capability. The most significant variant, the P-51D, featured a 360-degree-view bubble canopy, a modified rear fuselage, and six 12.77-mm machine guns. 7,956 were built, and once again, many went to the UK as Mustang Mk IVs and others became USAAF F-6D reconnaissance aircraft. Next came the P-51K, which was generally similar. A third of these became RAF Mustang IVs also, and over a hundred became F-6Ks. Very late in the war, the P-51H appeared, although only 555 of 2000 were completed before V-J Day caused the cancellation of the order. US production totaled 15,386, but at least 200 more were built by the Commonwealth Aircraft Corporation of Australia with imported parts and designated Mustang Mk 20/21/22/23. None of these saw service before the end of the war. Under the Lend-Lease program, 50 P-51s were supplied to China, and 40 more were supplied to the Netherlands in the Pacific theater.
After the war, the P-51 remained in US service with the Strategic Air Command until 1949, and with the Air National Guard and Reserves into the 1950s. It became one of the first fighters to see combat in the Korean War. The RAF's Fighter Command used them until 1946. In addition, over 50 air forces around the world acquired and used the Mustang for many more years, some as recently as the early 1980s. When the US Air Force realigned their aircraft designations in the 1950s, the Mustang became the F-51.
In the last 40 years, surplus Mustangs have been modified and used extensively as civilian air racers, but the latest trend is for private owners to restore them to almost perfect, historically-accurate condition. As public appreciation for the Mustang has grown, the monetary value of the few remaining examples has skyrocketed. War-surplus P-51s, once auctioned from storage for less than (US) $2000, are now usually valued at nearly a million dollars or more. The restoration of existing airframes has become a small industry in the US, UK and Australia, and the total number of flyable examples, despite one or two accidents each year, is growing. Several Mustangs have been or are currently being restored as two-seat, dual-control TF-51s, a trend which promises to ensure that today's operators are better-trained than any previous generation of Mustang pilots.
Nicknames: Fifty One; 'Stang; Peter-Dash-Flash
Specifications (P-51D):
Engine: One 1,695-hp Packard Merlin V-1650-7 piston V-12 engine
Weight: Empty 7,125 lbs., Max Takeoff 12,100 lbs.
Wing Span: 37ft. 0.5in.
Length: 32ft. 9.5in.
Height: 13ft. 8in.
Performance:
Maximum Speed: 437 mph
Ceiling: 41,900 ft.
Range: 1300 miles
Armament: Six 12.7-mm (0.5 inch) wing-mounted machine guns, plus up to two 1,000-lb bombs or six 127-mm (5 inch) rockets.
Number Built: Approximately 15,018 (including ~200 built in Australia)
Number Still Airworthy: Approximately 150

[ P-51 Photographs ]
P-51 Cockpit Photo:



(Click for larger)
Links:
C.E. "Bud" Anderson's P-51 "Old Crow" page
Curtis Fowles' P-51 Mustang Bunker
Flight Journal Magazine's P-51 Page
Fur's P-51 Mustang Flight
"Gunfighter" [Alternate link]
"Huntress III"
Jeff Ethell's P-51 Pilot Report
Kiwi Images' P-51 Page
MaxAir2Air.com P-51 "Gunfighter" Profile
"Miss America" QTVR Panoramic Cockpit Photo
Mustang in Swedish Service
Mustang Maintenance Manual on CD-ROM
Mustang!
MustangsMustangs
Operating Instructions for the P-51
P-51 360-degree "virtual reality" cockpit photo
"Red Tail" Education Program
Square One Aviation, Chino, California
Stallion 51 Corp. ("Crazy Horse" / "Mad Max")
"Strega" Unlimited Air Racer
Swiss Mustangs


[ Click for more great books about the P-51 Mustang! ]


[Back to Warbird Alley's Main Page]
---
All text and photos Copyright 2016 The Doublestar Group, unless otherwise noted.
You may use this page for your own, non-commercial reference purposes only.
---