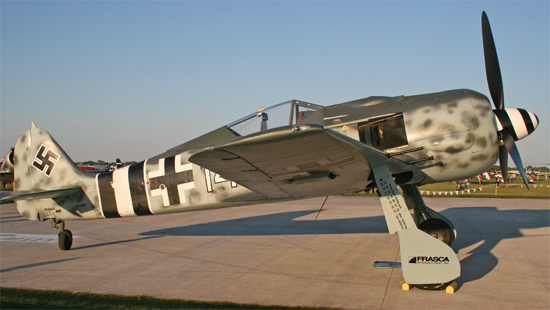 This near-exact replica of the Fw 190, registered NX190RF, is one of several that
have appeared on the warbird circuit in the past few years.
Photo by Buck Wyndham
Brief History: The Fw 190 is widely regarded as Germany's best fighter aircraft of World War II. Its appearance in the skies over France in early 1941 was a rude shock to the Allies, as it was clearly superior to any other plane. For nearly a year, until the debut of the Spitfire IX, the Fw 190 was the unmatched champion of the air war.
As the war progressed, the Fw 190 was developed into many variants as a pure fighter, a ground-attack fighter/bomber, and as a close-support aircraft. No fewer than 40 different versions were produced, with different combinations of engines, armament, wings, systems, and roles.
First flown on 1 June 1939, the Fw 190 served for the duration of the war, largely replacing several other aircraft types in the process, including the Junker Ju 87 Stuka dive bomber. Allied bombers dreaded the sight of these potent aircraft, as did the fighters who provided cover for them. Arguably, the Fw 190's greatest impact on the Allied war effort was to spur ever-greater advances in technology and aircraft design to counter its threat.
Nicknames: Butcher Bird; Dora; Kangaroo (Fw 190 V18/U1 variant)
Specifications (Fw 190A-8):
Engine: One 2,100-hp BMW 801D-2 radial piston engine
Weight: Empty 6,989 lbs., Max Takeoff 10,802 lbs.
Wing Span: 34ft. 5.5in.
Length: 29ft. 1.5in.
Height: 13ft. 0in.
Performance:
Maximum Speed: 408 mph
Ceiling: 37,400 ft.
Range: 500 miles
Armament:
Two 7.92-mm (0.31-inch) machine guns in nose.
Up to four 20-mm MG 151 guns in wings.
Wide range of underwing and under-fuselage bombs, guns and rockets.
Number Built: 20,051 (All variants)
Number Still Airworthy: One, and several more are under active restoration to flight status. In addition, several high-quality replicas (Fw 190A8/Ns) have recently been produced by Flukwerk GmbH in Bavaria.
Links:
Bookie's Fw 190 Site -- Very comprehensive history site.
Flug Werke GmbH -- New FW 190s!
Flying Heritage Foundation -- Home of an airworthy Fw 190.
White One Foundation -- Two Fw 190s being restored to airworthy condition.
WWII Fighter Aircraft Foundation Fw 190 D-9 -- Another Fw 190 being restored to airworthy condition.


[Back to Warbird Alley's Main Page]
---
All text and photos Copyright 2016 The Doublestar Group, unless otherwise noted.
You may use this page for your own, non-commercial reference purposes only.
---