Fouga CM-170 Magister
(Variants / Other Names: CM-175 Zephyr; Super Magister, Tzukit; AMIT.
---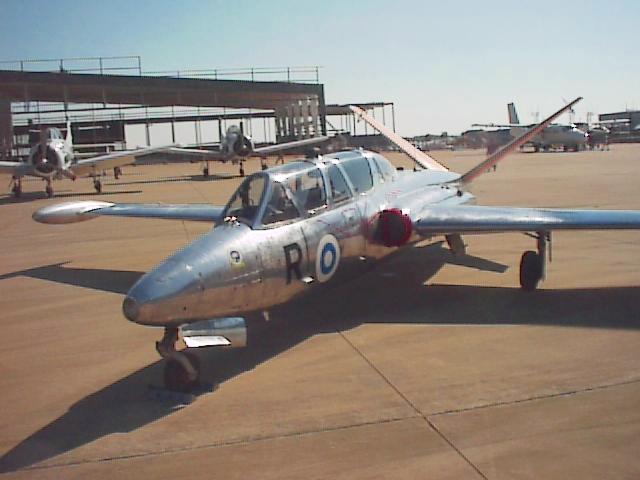 History: The Fouga CM-170 Magister was the first primary jet trainer to enter production, under a French Armée de l'Air specification. The Magister sprang from the previous work of designer Pierre Mauboussin, who was known for fitting small turbojet engines to light aircraft and gliders. The prototype of the distinctive butterfly-tail jet, built by the Air Fouga company, made its first flight on 23 July 1952. Its performance impressed the French Air Force so much that it immediately ordered 10 pre-production models, quickly followed by over 400 production aircraft. A navalized variant, the CM-175 Zephyr, appeared, fitted with a tail hook and strengthened landing gear to allow aircraft carrier operations. 32 Zephyrs were built for the Aéronavale.
In 1958, the parent company (Fouga) was acquired by the Potez company, then by Sud-Aviation in 1967, and finally by Aérospatiale. The Magister was also built under license in several other nations, including Germany (by Messerschmitt), Finland (by Valmet), and Israel. Israeli Aircraft Industries' version was initially nicknamed the Snunit ("Swallow") but this name never caught on and the airplane was later called the "Tzukit" ("Thrush") after an upgrade program in 1983. Israel also called it the AMIT (Advanced Multi-mission Improved Trainer).
In addition, many nations purchased Magisters for trainer and light-attack duties. In the latter role, the aircraft could be fitted with two 7.5-mm or 7.62-mm machine guns in the nose, several combinations of underwing rocket pods or freefall bombs, and even Nord AS.11 air-to-surface missiles. Israel proved the Magister's combat worth during the Six Day War in June 1967, when the Magister flew ground attack missions in Egypt and Jordan.
The Magister design did not change much throughout its production life. The most significant upgrade, the CM-170-2, was fitted with Turbomecca Marbore VI engines, which gave the airplane a 350-pound increase in thrust over the earlier Marbore IIs, resulting in a higher useful load and greater climb rate. The more powerful engines were also used in the CM-170-3 Super Magister, operated by the Irish Air Corps as a light attack/trainer well into the 1990s.
After France began retiring their Magisters in the 1980s, private warbird collectors began acquiring them, and today, over 50 of them are on the civil rosters in the USA, New Zealand and England. Ironically, due to French restrictions on Magisters being registered as a civil aircraft, only a few are flown in the aircraft's original homeland.
One of the best-handling jet trainers ever built, the Fouga is and will continue to be treasured for its straightforward flight characteristics and twin-engine safety.
Nicknames: The Whistling Turtle (Belgian Air Force nickname); Dinky Toy. Israeli Air Force designations included: Tzukit ("Thrush"), Snunit ("Swallow").
Specifications (CM-170):
Engines: Two 882-pound thrust Turbomeca Marbore IIA turbojets
Weight: Empty 4,740 lbs., Max Takeoff 7,055 lbs.
Wing Span: 39ft. 10in. including tip tanks
Length: 33ft. 0in.
Height: 9ft. 2in.
Performance:
Maximum Speed: 444 mph
Ceiling: 36,090 ft.
Range: 575 miles
Armament (Optional):
Two 7.5-mm (0.295-inch) or 7.62-mm (0.3-inch) machine guns in nose, plus underwing hardpoints for rockets, bombs or Nord AS.11 missiles.
Number Built: 918
Number Still Airworthy: At least 40 in private ownership. Unknown number in active military service around the world.
Links:
AirSports International Fouga Report
Association Fouga Magister CM-170
Dutch Historic Jet Association
Fantasy Fighters Jet Warbird Training Center, New Mexico, USA
The Fouga Fan Club
Fouga Flights -- Aerobatic/recovery training and orientation flights in a Fouga Magister in Kenosha, Wisconsin, USA.
Fouga Magister in Belgian Service
Fouga Restoration Diary -- A journal of the restoration of Fouga Serial No. 61.
The Fouga Specialists, Inc. -- Fouga sales and maintenance.
FougaJets.com -- Fouga restorations and sales.
Kiwi Aircraft Images Fouga Page
Marc Arys' Fouga Flight
OY-FGA -- The only Fouga flying in Denmark.
Rennes Air Meet, France


[ Fouga Photos ]




[Back to Warbird Alley's Main Page]
---
All text and photos Copyright 2016 The Doublestar Group, unless otherwise noted.
You may use this page for your own, non-commercial reference purposes only.
---