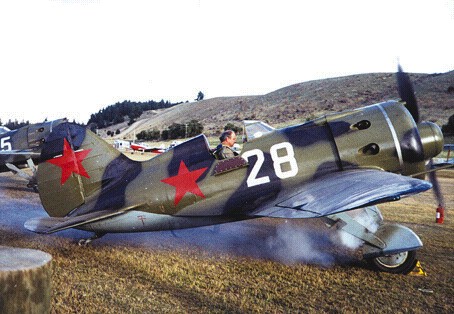 (Photo source unknown. Please contact us if you deserve credit.)
History: The first low-wing monoplane fighter with retractable landing gear to enter service, the Polikarpov I-16 was obsolete even before the Second World War began, yet plodded along as the Soviet Union's first line fighter until 1943 when the Red Air Force finally introduced top-notch aircraft to slug it out with the Luftwaffe for the remainder of the war.
Of advanced design for its time, the I-16 was, none-the-less, an illustration of poor timing, being the fastest of its type when first introduced, highly maneuverable, with excellent climbing speed and roll rate, yet soon outclassed by a newer craft developed by Germany and Japan. While the aircraft performed well against German combat aircraft during the Spanish Civil War (1936 to 1939), and against the Japanese Air Force in Manchuria starting in 1937, by the time Germany invaded the Soviet Union in 1941, the aircraft was outclassed by new generations of enemy fighters. Yet, as the most numerous of the Soviet fighters available at that time, it bore the brunt of the battle for several years.
On the plus side, its simple, rugged construction, all-wood monocoque fuselage and metal wings made the I-16 easy to maintain under frontline conditions, and enabled it to absorb heavy punishment while staying in the fight. In fact, the plane itself was sturdy enough to be used as a ram to destroy enemy aircraft in midair when ammunition ran out in a dogfight.
On the negative side, it had poor longitudinal stability, a tendency to stall in a glide, and was exceedingly temperamental, requiring highly skilled airmanship to perform well and not kill the pilot before the enemy had a shot at him.
Although more than 7,000 of the fighters and their two-seat trainer variants were produced, not more than a handful have survived, with 3 non-flying craft being in museums (two in Russia, one in China). However, at least 6 wrecked I-16's had been restored to flying condition in New Zealand by the end of 1998, all of them Type 24s dating from 1939. At least one was imported to the USA in 1999.
Nicknames: Yastrebok ("Hawk") or Ishak ("Little Donkey") in Russia. In Spain it was known as the Mosca ("Little Fly") to the Republicans, and Rata ("Rat") to the Nationalists against whom it was flown. It was also called Abu ("Gadfly") by the Japanese.
Specifications (I-16 Type 24):
Engine: One 1,000-hp M-62 radial piston engine
Weight: Empty 3,252 lbs., Max Takeoff 4,542 lbs.
Wing Span: 29ft. 1.5in.
Length: 19ft. 9.75in.
Height: 7ft. 10.75in.
Performance:
Maximum Speed at 10,000 ft: 304 mph
Ceiling: 31,070 ft.
Range: 373 miles
Armament:
Four 7.62-mm (0.3-inch) Sh KAS machine guns (Two in forward fuselage; two in wings)
Up to 441 pounds of bombs or six RS-82 rockets on underwing racks
Number Built: 7,000+
Number Still Airworthy: 6

[ Pilot Report by Mark Hanna ]
Links:
Aviation-History.com I-16 Page
The Polikarpov Fighters -- Alpine Fighter Collection, Wanaka, New Zealand
Rata Flight Test Report, by Dave Morss





[Back to Warbird Alley's Main Page]
---
All text and photos Copyright 2016 The Doublestar Group, unless otherwise noted.
You may use this page for your own, non-commercial reference purposes only.
---