Consolidated B-24 Liberator
(Variants/Other Names: C-87; C-109; LB-30; PB4Y-2 Privateer; RY-3; Liberator C IX)
---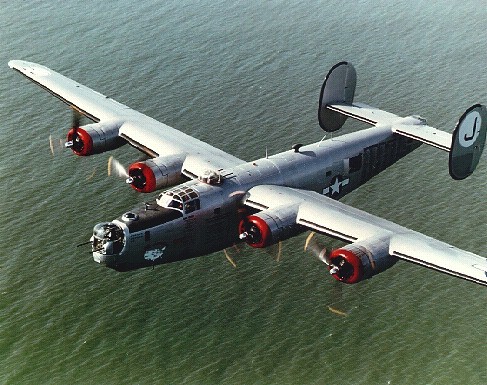 B-24J N224J, serial no. 44-4405 "All American," operated by the Collings Foundation, later repainted and renamed "The Dragon and His Tail," and now called "Witchcraft." Photo by Patrick Bunce.
History: Life for the B-24 heavy bomber began in 1939, when the U.S. Army Air Corps initiated a request for a new bomber designed to exceed the performance of the B-17. Consolidated Aircraft responded quickly with its proposal, labeled Consolidated Model 32 and, on March 30 of 1939, was awarded the contract. One day short of nine months later, on December 29, 1939, the first flight of the XB-24 bomber prototype took place.
Slightly smaller than the B-17, the turbosupercharger-equipped B-24 flew farther with a bigger bomb load than the much more publicized Boeing aircraft. Of seven service-test YB-24s, six were sent to the Royal Air Force (RAF) under the export designation LB-30A. Because they lacked turbosuperchargers and self-sealing fuel tanks, the RAF found them unsuitable for combat duty over Europe. Instead, they were stripped of their armament and put into service as transports on the Trans-Atlantic Return Ferry Service, which had been established to send air crews to Montreal to take delivery of American aircraft consigned to the British war effort.
Flying for the Army Air Corps as the B-24, and the U.S. Navy as the PB4Y-1, the plane also saw service in the Royal Air Force where it was known simply as the Liberator. There was also a transport version known as the C-87, one of which was Winston Churchill's personal aircraft, carrying him to historic meetings at Moscow and Casablanca, among other locations.
Before the last one was retired from Air Force service in 1953, the plane was produced in variations ranging through type M. The various model numbers were often the result of minor changes, like the relocation of internal equipment, but one major revision, the conversion of the standard Navy B-24 (PB4Y-1) to the PB4Y-2 Privateer, involved a significant rework that exchanged the familiar twin tail for a single tall tail fin and rudder combination. It also had a stretched forward fuselage that placed the pilot's compartment well in front of the un-turbocharged Pratt & Whitney R1830-94 Twin Wasp engines.
Among the features that distinguished the B-24 from the B-17 were its tricycle landing gear (the first installed in a heavy operational aircraft), the mid-mounted, high-lift Davis wing that achieved 20 percent less drag than conventional airfoils of the time, twin tail fins, oval-shaped engine cowlings necessitated by the mounting of turbosuperchargers, unique roll-up bomb bay doors that reduced drag considerably when open, and a fully retractable ventral machine gun turret. The B-24 was also the first to employ Hamilton hydromatic quick-feathering three-blade propellers.
While designed as a heavy bomber, the B-24 experienced more than 100 modifications and conversions for such assignments as photography, mine laying, and cargo hauling (including a C-109 fuel tanker version that flew "the Hump" to refuel B-29s operating out of forward bases in China). More than 18,000 B-24s were built during WWII, more than any other American aircraft. Given its abilities and "convert-abilities," the numbers make perfect sense. However, a postwar attempt to combine portions of the B-24 and PB4Y-2 with a new fuselage to create the Convair Model 39 airliner was not a commercial success, with only one prototype being built.
Of the many thousands of B-24s and derivatives built, only three remain airworthy, all in the United States.
Nicknames: Lib; Ford's Folly; Flying Boxcar; Liberator Express (C-87 variant); C-One-Oh-Boom (C-109 fuel-carrying variant); Lamp Lighter (PB4Y-2s dropping parachute flares in Korea).
Specifications (B-24H/J):
Engines: Four 1,200-hp Pratt & Whitney R-1830-65 Twin Wasp turbocharged radial piston engines.
Weight: Empty 36,500 lbs., Max Overload Takeoff 71,200 lbs.
Wing Span: 110ft. 0in.
Length: 67ft. 2in.
Height: 18ft. 0in.
Performance:
Maximum Speed at 25,000 ft: 290 mph
Cruising Speed: 215 mph
Ceiling: 28,000 ft.
Range: 2,100 miles
Armament:
10 12.7-mm (0.5-inch) machine guns in nose, upper/ventral ball turrets and tail turret, and lateral fuselage positions.
12,800 lb. maximum bomb load.
Number Built: 18,000+
Number Still Airworthy: Three (Two B-24Js and one LB-30)
Links:
B-24 Aviation Archaeology in Australasia and the Pacific
B-24 Best Web
Collings Foundation B-24
Commemorative Air Force B-24 ("Diamond Lil")
India's Reclaimed B-24 Bombers
"Lady Be Good"
RAAF B-24 Restoration in Victoria, Australia
B-24 Liberator books from Amazon.com:


[ Click for more great books about the B-24! ]


[Back to Warbird Alley's Main Page]
---
All text and photos Copyright 2015The Doublestar Group, unless otherwise noted.
You may use this page for your own, non-commercial reference purposes only.
---