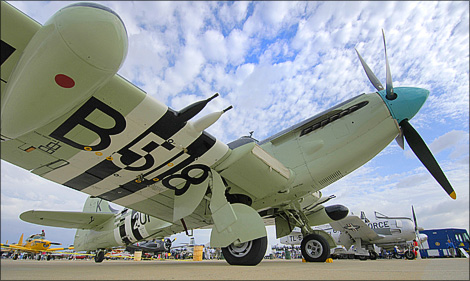 A rare Fairey Firefly AS-6 (WB518), owned and operated by Captain Eddie Kurdziel of Del Mar, California. Photo by Max Haynes.
History: The Firefly was designed as a fleet reconnaissance aircraft for the UK's Royal Navy, and was derived from the Fairey Fulmar. First flown on 22 December 1941, the first versions were delivered in March 1943 to RNAS Yeovilton. The main version of the aircraft used during WWII was the Mk.1, which was used in all theaters of operation. Throughout its operational career, it took on increasingly more demanding roles, from fighter to anti-submarine warfare. Main variants included the F1 (with a 1,990-hp Griffon XII engine); FR1 (with an ASH radar underneath the engine); NF2 (night-fighter); Mk.IV (with new outer wing nacelles carrying fuel and an ASH scanner); the FR4, with a two-stage supercharged engine and wing root radiators in place of the earlier "chin-mounted" ones; the AS5 (with new American sonobuoys); TT5 and TT6 (target tugs); and T7 (Anti-Submarine Warfare trainer).
After WWII, the Firefly remained in service in both the UK and Australia, flying anti-ship missions off various aircraft carriers in the Korean War and serving in the ground-attack role in Malaya. In 1956, the Firefly's frontline career ended with the introduction of the Fairey Gannet.
Only three Fireflies are currently believed to be maintained in airworthy condition. However, several others around the world are under restoration to flight status.
Nicknames: Firebox
Specifications (AS5):
Engine: One 2,250-hp Rolls-Royce Griffon 74 V-12 piston engine
Weight: Empty 9,674 lbs., Max Takeoff 16,096 lbs.
Wing Span: 41ft. 2in.
Length: 37ft. 11in.
Height: 14ft. 4in.
Performance:
Maximum Speed: 386 mph
Cruising Speed: 220 mph
Ceiling: 28,400 ft.
Range: 1,300 miles
Armament:
Four 20-mm cannon in wings
Underwing hardpoints for 16 60-pound rockets or two 1,000-pound bombs
Number Built: ~1,533
Number Still Airworthy: At least three
Links:
Canada Aviation Museum Digital Archive -- Firefly
Canadian Warplane Heritage -- Firefly Page
Fairey Firefly Mk V (WB518) -- Eddie Kurdziel's award-winning Firefly.
Firefly Mk I (PP462) Restoration in Nova Scotia, Canada
Frans Bonne's Firefly Page
Royal Navy Historic Flight's Firefly (WB271)


[Back to Warbird Alley's Main Page]
---
All text and photos Copyright 2016 The Doublestar Group, unless otherwise noted.
You may use this page for your own, non-commercial reference purposes only.