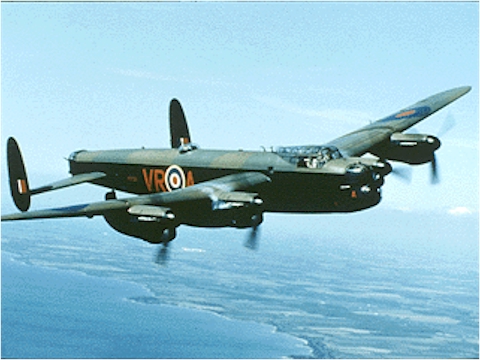 Avro Lancaster owned and flown by the Canadian Warplane Heritage Museum.
(Photo source unavailable. Please contact us if you deserve photo credit.)

History: When the United Kingdom's Bomber Command was given the difficult missions of destroying German dams in the Ruhr valley and sinking the Bismarck-class battleship Tirpitz in a Norwegian fjord, their aircraft of choice was the Avro Lancaster heavy bomber. With four Rolls-Royce Merlin engines giving a top speed of 287 mph and a range of 1,660 miles, the Lancaster's' seven-man crew could provide a knockout punch with a typical load of 18,000 pounds of high explosive over the target. Along with the Handley Page Halifax, the Lancaster gave the UK the offensive striking power needed to penetrate German air defenses during World War II. As Winston Churchill instructed the Air Ministry in 1942, the UK must "…make sure that the maximum weight of the best type of bombs is dropped on [Germany] by the aircraft placed at their disposal."

Entering service at the beginning of 1942, the Lancaster's design grew out of a failed predecessor, the Avro Manchester. While its' airframe offered a stable platform for heavy bombing assignments, the Manchester's twin engine design was inadequate to the task. By upgrading to four Merlins, the resulting aircraft met the nation's needs and 7,366 Avro Lancasters were built during the war, the most of any British bomber. Armament included eight to ten Browning machine guns for fighter defense (depending on model variant) mounted in the nose, upper dorsal turret and the tail. Experience with a variety of bomb loads eventually led to adoption of the 'Grand Slam' 22,000-pound bomb, the largest carried by any aircraft in the war. For the dam-busting strike in May 1943, the Lancaster dropped British designer Barnes Wallis's 'bouncing bombs' which skipped on the surface before impact. Wartime Lancaster sorties totaled about 156,000 during which roughly 608,000 tons of ordnance were dropped on the enemy.

As the war in Europe drew to a close, the Lancaster was readied for service against Japan as part of Bomber Command's 'Tiger Force', but the war's end put a halt to this plan. Apart from its primary bombing tasks, the versatile Lancaster was also used for maritime surveillance, photo reconnaissance missions and, later, as an engine test bed platform. The final airframe was delivered in February 1946, but the plane flew for many years in civilian guise and as a warplane when sold to other nations. A number of Lancasters were preserved and still can be viewed at museums, but only two still fly under their own power to airshows -- one in Canada and one in the UK. [History by Jeff VanDerford]

Nicknames: "Lanc"

Specifications (Lancaster Mk I):
Engines: Four 1,460 hp Rolls-Royce Merlin XX inline piston engines.
Weight: Empty 36,900 lbs, Maximum Takeoff 68,000 lbs.
Wingspan: 102 ft 0 in.
Length 69 ft 6 in.
Height: 20 ft 0 in.
Performance:
Maximum Speed at 12,000 ft: 287 mph
Service Ceiling: 24,500 ft
Range with 14,000 pound load: 1,660 miles
Armament:
Two 0.303-inch (7.7mm) guns in nose, ventral and dorsal turrets.
Four 0.303-inch (7.7mm) guns in tail turret.
Fourteen 1,000 pound bombs.
Crew: 7

Number Built: 7,366

Number Still Airworthy: Two

Links:
Avro Lancaster Heavy Bomber -- Photos and information about surviving Lancasters.
Battle of Britain Memorial Flight (BBMF), UK
Canadian Warplane Heritage Museum's Lancaster page -- Mount Hope, Ontario, Canada.
CNAPG Lancaster page
Lancaster KB882 Restoration -- Edmunston, New Brunswick, Canada.
LancasterRestoration.com -- Nearly 21,000 Lanc drawings available online.
Linclonshire Lancaster Association, UK
Nanton Lancaster Society and Museum, Canada


Avro Lancaster
By Ken Delve
Hardcover, 192 pages
Published 2000 by Crowood Press, Ltd.
The story of the enigmatic aircraft and bomber of World War II, the Avro Lancaster. It discusses its development and operational use, its beginnings in the form of the Avro Manchester, through to its retirement and beyond.


[ Click for more great books about the Lancaster! ]



[Back to Warbird Alley's Main Page]
---
All text and photos Copyright 2009 The Doublestar Group, unless otherwise noted.
You may use this page for your own, non-commercial reference purposes only.
---