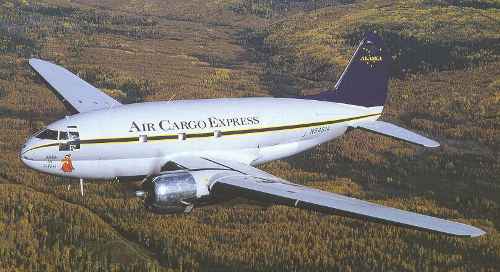 (Photo source unknown. Please contact us if you deserve credit.)
History: In March 1940, the Curtiss-Wright company first flew a new 36-seat commercial airliner design, designated the CW-20. The US Army became interested in the aircraft for its cargo/transport capabilities, and ordered a militarized version, the C-46 Commando, be produced, utilizing two 2,000-hp Pratt & Whitney R-2800-43 engines. The Commando entered service with the USAAF in July 1942, becoming the largest and heaviest twin-engine aircraft in the Air Corps.
The first major variant to appear was the C-46A, which had a large cargo door in the left rear fuselage, 40 folding seats, a strengthened cargo floor, and higher-altitude capable engines. This last feature was to become important when the C-46 began flying cargo "over the Hump" from India to China. The C-46 was found to have much better load-hauling capabilities than the C-47 at the altitudes involved. The Commando also served in the Pacific theater, where it moved troops and supplies from island to island, contributing to the defeat of Japan. In the European Theater, C-46s served as glider tugs, towing two CG-4 gliders at a time across the Rhine River.
Other versions of the aircraft included the R5C-1 (US Navy/Marine Corps designation); the C-46D (personnel version with an extra door on the right side); C-46E (utility version with C-46A doors and a stepped windscreen); and C-46F (cargo model with doors on both sides and square wingtip ends).
Well over 3,000 Commandos were built, and they remained in service through the Korean War. A few even served during the first years of the war in Vietnam. Today, a small number continue to fly in various capacities around the world, mostly as freighters in Central and South America.
Nicknames: Whale; Dumbo; T-Cat (C-46s modified to U.S. Civil Aviation transport-category standards.)
Specifications (C-46A):
Engines: Two 2,000-hp Pratt & Whitney R-2800-51 radial piston engines
Weight: Empty 30,000 lbs., Max Takeoff 45,000 lbs.
Wing Span: 108ft. 0in.
Length: 76ft. 4in.
Height: 21ft. 9in.
Performance:
Maximum Speed: 270 mph
Cruising Speed: 173 mph
Ceiling: 24,500 ft.
Range: 3,150 miles
Armament: None
Number Built: 3,000+
Number Still Flying: 50+

C-46 Cockpit Photo:



(Click for larger)
Links:
Aviation Safety Network C-46 Accident Index
Bob Tilden's Plane Talk column: "Art Deco"
CAF Ghost Squadron C-46 Page
Photovault C-46 Photo Page
Remember the Curtiss C-46 Commando
USAF Museum C-46 Page


[Back to Warbird Alley's Main Page]
---
All text and photos Copyright 2016 The Doublestar Group, unless otherwise noted.
You may use this page for your own, non-commercial reference purposes only.
---