Hawker Hunter
(Variants/Other Names: See History below)
---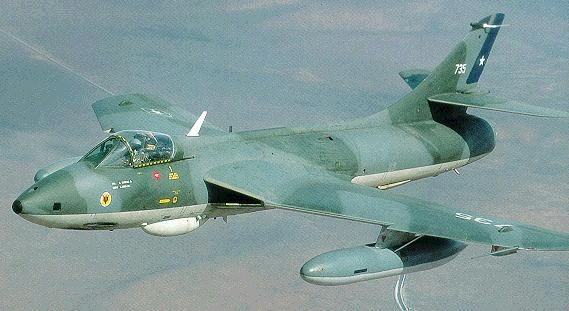 Hunter FR.71A/J-735, of the Chilean Air Force and based at Group 8, Cerro Moreno, Antofagosto, Chile. Thanks to Major Jaime Pinto.
History: The Hunter was the most successful of the British postwar fighters, and is remembered as a delightful, capable airplane in every respect. The prototype was first flown on 20 July 1951, and the single-seat Hunter F1 entered service with the Royal Air Force in July 1954. A two-seat variant, the Hunter T7, entered service in 1958. Deliveries of the Hunter continued until 1966, and during its life, the airplane was continually modified and improved, resulting in over 25 variants, including export versions for over 22 foreign nations. All versions were supersonic, and most variants featured increases in armament, power and fuel quantity.
Major variants included the F4 (Avon Mk 115 engine, increased fuel capacity from earlier versions); F5 (Sapphire Mk 101 engine); F6 (Avon Mk 203 engine, increased fuel capacity); T8 (Two-seat Navy version); FR10 (RAF reconnaissance version); GA11 (Royal Navy single-seat attack version; and FGA9 (Greater weapons capacity, increased thrust, strengthened fuselage for ground-attack role.)
Until just a few years ago, almost 20% of all Hunters built were still in service (mainly with the Swiss Air Force, RAF and Royal Navy), but as of 1998, only Zimbabwe's Hunters are still in front-line service. At least 30 are still airworthy in private hands, including over a dozen Hunters operated by government contractors in the USA.
Nicknames: Unknown
Specifications (Hunter F6):
Engine: One 10,150-pound thrust Rolls-Royce Avon Mk207 turbojet
Weight: Empty 14,120 lbs., Max Takeoff 23,800 lbs.
Wing Span: 33ft. 8in.
Length: 45ft. 10.5in.
Height: 13ft. 2in.
Performance:
Maximum Speed at Sea Level: 650 mph
Ceiling: 51,500 ft.
Range: 1,400 miles in ferry configuration (Combat radius 230 miles)
Armament:
Four 30mm Aden cannon
Four underwing pylons for 500 or 1000-pound bombs, 24 76-mm rockets, or fuel tanks.
Number Built: 1,985
Number Still Airworthy: At least 30 in private ownership.
Links:
AeroGroup, Inc., Tulsa, Oklahoma, USA -- Contract aircraft available for training, testing, and movie work, including Hunters.
ATAC USA -- US-based government contractor that operates Hunters.
Classic Fighters -- Belgian organization that operates two Hunters.
Classic Jet Aircraft Company (UK)
CNAPG Hunter Page
Everett Aero -- A UK-based company specializing in the sale and support of British ex-military jets, including Hunters.
FRADU Hunters Site
Hawker Hunter Aviation, Ltd. -- UK-based contract-aircraft corporation with a large fleet of Hunters and other aircraft.
"Hawker Hunters Reborn"
Hunter Flight Pty Ltd. -- Australian Hunter organization.
Hunterverein Obersimmental -- Swiss group that flies a single-seat F.Mk58 Hunter. (German-language site.)
Hunter T.8 WV322 -- UK-based Hunter operator offering rides, ownership shares and airshow appearances.
Kiwi Aircraft Images: Hunter Page -- Excellent detail photographs of the Hunter.
Northern Lights Combat Air Support Team -- Canadian Hunter team.
"Somali Hunters" Photoessay -- Photos of abandoned Hunters in Somalia.
Swiss Hunters -- Detailed histories and photos of former Swiss Hunters.
"Thunder and Lightnings" Hunter Page



[Back to Warbird Alley's Main Page]
---
All text and photos Copyright 2016 The Doublestar Group, unless otherwise noted.
You may use this page for your own, non-commercial reference purposes only.
---