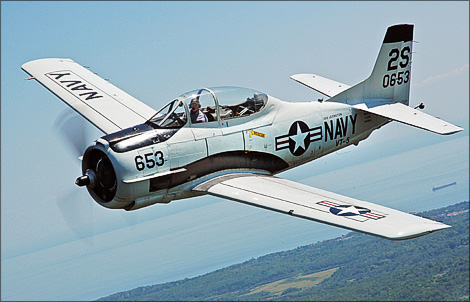 Photo by Max Haynes - MaxAir2Air.com
History: When the United States Air Force set out to replace its aging T-6 Texan trainers, North American was hired to complete the task. What they presented was the Model NA-159 piston-engine trainer; a design that was so successful that it was responsible for gaining a contract for two XT-28 prototypes. After an evaluation of these prototypes and an initial flight on September 26, 1949, the Air Force was so impressed that it ordered production to begin on the newly designated T-28A.
The Trojan, as it became known, had a frameless canopy and a Wright R-1300 engine that, when combined, gave it a top speed that often exceeded 280 mph. First orders of 266 planes in 1950 eventually grew to 1,194. After it became evident that the Air Force had found a very successful design, the United Sates Navy and Marine Corps adopted it as well. Two years later, 489 standardized versions (T-28Bs) were ordered by the Navy, mainly differing from the T-28A in its use of the more-powerful Wright R-1820-86 engine. Following this, 299 T-28Cs were produced, which were fitted with an arrester gear for carrier-deck landing training.
In 1962, North American began supplying T-28Ds for the counter-insurgency role. Six underwing hard-points were added in order for the aircraft to accept a variety of weapons. The T-28 saw action in both Southeast Asia and North Africa. The attack trainer version of the T-28D was called the AT-28D. France's Sud-Aviation converted over 240 T-28Ds into Fennecs and used them as replacements for their Algerian-based T-6s. Fennecs performed admirably in the close-support, reconnaissance and patrol roles.
The T-28's service career, though long, was finally ended by the introduction of the T-34 turboprop trainer, but the T-28 lives on as one of the most popular piston-powered warbirds in the USA, as well as several other countries.
Nicknames: None
Specifications (T-28B):
Engine: One 1,425-hp Wright Cyclone R-1820-86 radial piston engine
Weight: Empty 6,424 lbs., Max Takeoff 8,500 lbs.
Wing Span: 40 ft. 1 in.
Length: 33 ft. 0 in.
Height: 12 ft. 8 in.
Performance:
Maximum Speed: 343 mph
Ceiling: 35,500 ft.
Range: 1,060 miles
Armament: None
Number Built: ~2232
Number Still Airworthy: 150+
Cockpit Photo:



(Click for Larger)

[ T-28 Pilot Report by Budd Davisson ]
Links:
Aircraft in Focus: T-28 -- Individual aircraft histories and photos.
Air Heritage, Inc. T-28 Restoration Page -- Beaver Falls, PA, USA.
Boeing Historical Snapshot: T-28 Trojan
C&J Sales -- T-28 aircraft and parts.
Courtesy Aircraft T-28 Profile -- History and information about private ownership.
Kiwi Aircraft Images' T-28 Page -- T-28 images from down under.
MaxAir2Air.com T-28 Profile -- T-28 photo feature.
Norman Crocker's T-28 Site -- Information about the T-28 in Vietnam.
North American Trainer Association -- Owner/operator organization.
Parkzone T-28 Trojan BNF
-- A great-flying radio-controlled model of the T-28.
Photovault: T-28 Trojan -- Numerous T-28 photos.
Rocky Mountain T-28 Parts -- Parts and information, Colorado Springs, CO, USA.
T-28 Storm-Penetrating Aircraft -- Institute of Atmospheric Sciences, Rapid City, SD, USA
T-28 Trojan Foundation -- Preserving the history and legacy of the T-28.
T-28 Walk-Around Photos -- Great photos for detail modeling.
Trojan Phlyers -- Race Team and Airshows, Ft. Worth, Texas, USA.
Warbird Registry: T-28 Trojan -- Registry of known airframes.



[Back to Warbird Alley's Main Page]
---
All text and photos Copyright 2016 The Doublestar Group, unless otherwise noted.
You may use this page for your own, non-commercial reference purposes only.
---