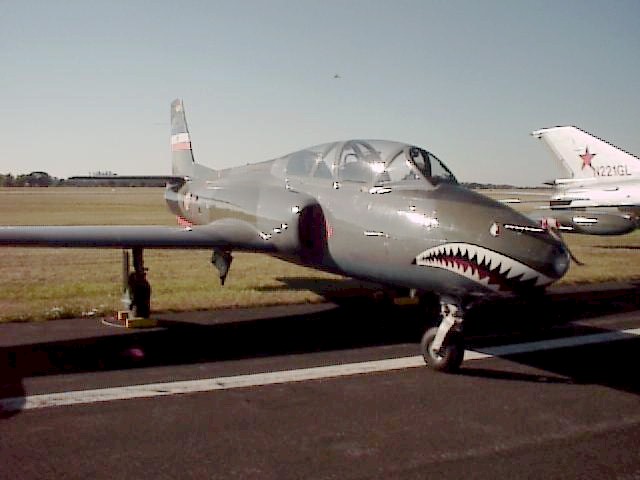 History: The Galeb ("Seagull") was the first Yugoslavian jet design to enter production. The first G2-A prototype initially flew in May 1961, and production of the aircraft began in 1963. Initially built as a two-seat trainer but also as a light attack aircraft, it was flown primarily by the Yugoslavian Air Academy, but was also exported to both Libya and Zambia with the designation G2-AE. A single-seat light attack version called the J-1 Jastreb ("Hawk") was built which utilized a strengthened airframe and an improved Viper engine with 500 pounds more thrust than the G2-A.
Another version, called the RJ-1, was built for tactical reconnaissance, and both the J-1 and RJ-1 were also exported to Libya and Zambia. In addition, a two-seat TJ-1 was developed for J-1 conversion training.
Production of the Galeb ended in 1985, but when Yugoslavia broke up in a violent civil war in the early/mid 1990s, the G-2A was used extensively by the 105th Fighter-Bomber Regiment of the Serbian Air Force, in combat over Bosnia-Herzegovina. Before the civil war, at least a dozen Galebs were purchased by American warbird dealers, and several are still on the civil register today.
Nicknames: Seagull; Hawk
Specifications (G-2A):
Engine: One 2500-lb thrust Rolls-Royce Viper II Mk 22-6 turbine engine
Weight: Empty 5775 lbs., Max Takeoff 7690 lbs.
Wing Span: 34ft. 4.5in. without wingtip tanks
Length: 33ft. 11in.
Height: 10ft. 9in.
Performance:
Maximum Speed: 470mph
Ceiling: 45,000ft.
Range: 770 miles
Armament: Two 12.7mm machine guns in nose.
Number Built: Unknown, probably around 300 of all variants.
Number Still Airworthy: Unknown, approximately 5 in private ownership.
Links:
Galeb Page
Dragan's Galeb Page
Federation of American Scientists Galeb Page
Virtual Spin, LLC -- Galeb sales in the USA and UK
Yugoslav Military Soko Page



[Back to Warbird Alley's Main Page]
---
All text and photos Copyright 2016 The Doublestar Group, unless otherwise noted.
You may use this page for your own, non-commercial reference purposes only.
---