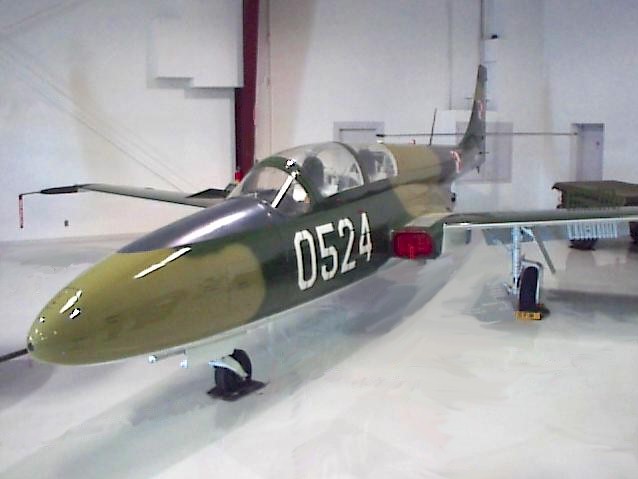 History: The Iskra (Polish for "Spark") was designed in 1957 as a two-seat primary and advanced jet trainer. The first flight of the prototype was on 5 February 1960, and initial deliveries began in March 1963. Full operational capability with the Polish Air Force began in 1964, and over 500 were built, with 50 of the "Bis D" version going to India. A "Bis DF" photo-reconnaissance trainer was also produced.
Early variants were powered by the HO-10 turbojet, with 1720 pounds of thrust, but in the mid-1960s, PZL switched to the SO-1 engine with 1764 pound of thrust. This engine was later improved and renamed the SO-3, and with the introduction of the SO-3W, was upgraded to 2,425 pounds of thrust.
The Iskra was often used as a fighter/bomber trainer thanks to its underwing weapons hard-points, on which could be mounted rocket pods, bombs, and/or guns. Many people ask what PZL / WSK (the manufacturer's) full name is. Well, for the benefit of Warbird Alley readers, here it is (take a deep breath): Panstwowe Zaklady Lotnicze / Wytwórnia Sprzetu Komunikacyjnego-Mielec. Roughly translated, the PZL part of the name means "National Aviation Factory," and "WSK" means "The Transport Equipment Manufacturing Center." (Thanks to Artur for help with the Polish translation.)
Nicknames: Motor Glider (colloquial term referring to its good engine-out characteristics); Sparky (name sometimes used by private owners and collectors.)
Specifications (TS-11 Iskra Bis DF):
Engine: One 2,425-lb thrust IL SO-3W turbojet
Weight: Empty 5,644 lbs., Max Takeoff 8,466 lbs.
Wing Span: 33ft. 0in.
Length: 36ft. 7in.
Height: 11ft. 5.75in.
Performance:
Maximum Speed at 16,500 ft: 478 mph
Ceiling: 36,100 ft.
Range: 783 miles
Armament:
One 23mm cannon in nose
Four underwing attachments for various weapons
Number Built: More than 500
Number Still Airworthy: At least 10
Links:
Australian Aviation Archive Iskra page
Farewell to the Iskra (Indian Air Force)
Paul Nann's Photo Gallery -- Iskra photos
Warbirds of India -- Iskra page


[Back to Warbird Alley's Main Page]
---
All text and photos Copyright 2006 The Doublestar Group, unless otherwise noted.
You may use this page for your own, non-commercial reference purposes only.
---