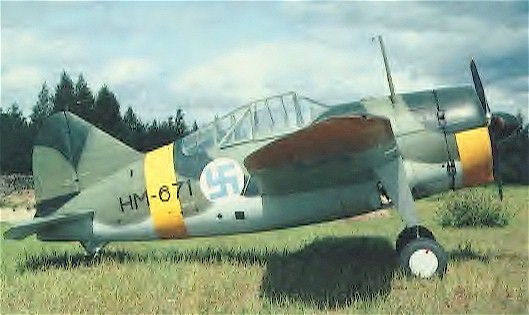 VL Humu HM-871 (Finnish prototype variant of the Brewster F2A)
(Photo courtesy of Keski-Suomen Muesum, Finland.)
History: Recognizing in 1936 that the day of the biplane flying off carrier decks was ending, the US Navy sent a proposal to manufacturers specifying a monoplane configuration, wing flaps, arrester gear, retractable landing flaps and an enclosed cockpit. Brewster's design, the F2A, featured all-metal construction except for fabric control surfaces, a Wright Cyclone piston engine (allowing the plane to exceed 300 mph), four fixed machine guns and attachments for two 100 pound bombs. In June 1939 the first of 54 F2A-1 production planes was delivered, the first nine sent to equip VF-3 aboard USS Saratoga.
By late 1940 the Navy was receiving the F2A-2, an improved version with a more powerful engine, better propeller and built-in flotation gear. Unfortunately the plane was overweight and unstable, especially compared to the Japanese Zero, and would soon be replaced by the Grumman Wildcat.
About 200 land-based versions were bought by the British, who called it the Brewster Buffalo; they were sent to the Far East in an attempt to free up Spitfires and Hurricanes in Europe. Used in the defense of Burma and Singapore, the Buffalo was overmatched by the Japanese and eventually withdrawn from service. In fact, the only successful combat enjoyed in the Far East was the 100 Buffaloes of the Netherlands East Indies Army fitted with a larger (1,200 hp) Wright engine. Only by maintaining a high altitude and diving suddenly out of the sun were the Dutch able to defeat the Zero in Java and Malaya.
A significant user of the Buffalo was the Finnish Air Force. Though unloved by the British, Australians, Americans, Belgians and Kiwis, 44 Buffaloes were flown by the Finnish LLv24 Squadron, and the aircraft was beloved and found to be very effective in the hands of its Finnish pilots. No fewer than 12 pilots became aces in Buffaloes, and the aircraft is remembered fondly by many.

A Finnish variant of the F2A, the VL (Valtion Lentokonetehdas) Humu was intended as a replacement for the Finnish Air Force's worn-out F2A-1 Buffalo fighters, which could not be replaced due to poor wartime availability of imported combat aircraft. The most significant changes from the original F2A-1 were a wooden wing (necessary due to material shortages) and a Russian M-63 engine purchased from Germany. The project soon fell behind schedule and the Humu proved to be inferior to the F2A-1 due to a higher aircraft weight, among other factors . Only one aircraft was delivered, and it never entered Finnish service.
Nicknames: Beer Barrel (RAF nickname); Flying Barrel; Suicide Barrel; Peanut Special; Pylly-Waltteri (Finland); Taivaan Helmi ("Sky Pearl" in Finnish).
Specifications (F2A-3):
Engine: One 1,200-hp Wright R-1820-40 Cyclone radial piston engine.
Weight: Empty 4,723 lbs., Max Takeoff 7,159 lbs.
Wing Span: 35ft. 0in.
Length: 26ft. 4in.
Height: 12ft. 1in.
Performance:
Maximum Speed: 321 mph
Cruising Speed: 258 mph
Ceiling: 33,200 ft.
Range: 965 miles
Armament: Four forward-firing 12.7-mm (0.5-inch) machine guns, plus two 100-pound bombs.
Number Built: ~420
Number Still Airworthy: None, but at least one is rumored to be under restoration for flight.
Links:
Annals of the Brewster Buffalo
Buffalo BW-372 Recovery from Russian Lake | March 2000 Update
Finnish Brewsters
The Last Brewster
VL Humu


[Back to Warbird Alley's Main Page]
---
All text and photos Copyright 2016 The Doublestar Group, unless otherwise noted.
You may use this page for your own, non-commercial reference purposes only.
---