Gloster Meteor
(Variants/Other Names: See History below)
---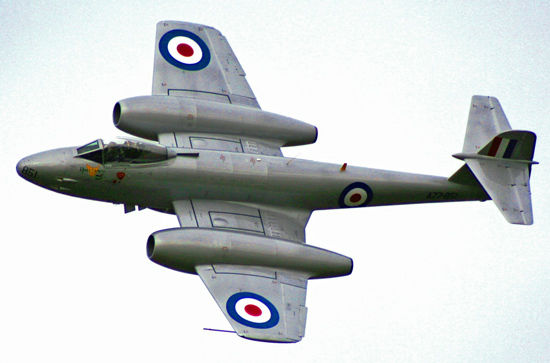 Meteor F.8 VH-MBX, operated by the Temora Aviation Museum in Australia.
(Photo source unknown. Please contact us if you deserve credit.)
History: The Gloster Meteor entered the history books as the only turbojet powered aircraft flown in combat by the Allies during World War Two. It fought V-1 and V-2 rockets, and also served on the other side of the channel looking for Me 262s and Me 163s.

Eight prototypes of the Meteor were built during development, each with differing engines of various speeds and powers. The first prototype to fly was the fifth one built. It got airborne on 5 March 1943 powered by two dH Halford H.I engines, with about 1,500 pounds of thrust each. The first production batch consisted of 20 Gloster G.41A Meteor F.Mk Is. These had Welland engines and a clear-view canopy. The first Meteor was traded to the United States for a Bell YP-59A Airacomet, the USA's first jet fighter. One was used in an experimental design for the world's first turboprop-driven plane. This aircraft, the Trent-Meteor, used reduction gears on the engine to drive a propeller shaft with a five bladed propeller. It was equipped with longer-stroke landing gear to give clearance for the propeller tips.

The first operational jet fighter squadron was No. 616. It was given a detached flight of seven Meteor F.Mk Is when it moved to Manston, Kent in July of 1944. RAF Flying Officer Dean claimed the first V-1 to be destroyed by a jet fighter. After all four of his guns jammed, he used his wing tip to push the V-1 nose-first towards the ground. The same day another Meteor claimed a second V-1. By the end of August, the squadron was completely converted to Meteors. The first Meteor F.Mk IIIs were delivered on December 18, 1944, and these began to replace the Mk. Is. The Mk IIs had the much better Derwent turbojets, which improved performance considerably. In January of 1945, one flight from No. 616 Squadron was moved across the channel to begin operations in Belgium. After the war, production continued. The most prolific version built was the Meteor F.Mk 8, with gyro-gunsights, bubble canopy, ejection seats and bigger Derwent engines, with a top speed of 600 mph (966 km/h). A two-seat, dual control trainer was built for the RAF under the designation Meteor T.Mk 7, and a two-seat night fighter, the Meteor NF Mk 13, entered service in 1952.
When production of the Meteor ended in 1954, 3,947 had been built. Today, several Meteors are still flying, most in the UK and at least one in Australia.
Nicknames: Meatbox; Meaty Whore; Phantom Diver (T.7 version); Reaper (Meteor GAF version)
Specifications (F.Mk I):
Engines: Two 1,700-pound thrust Rolls-Royce W.2B/23C Welland turbojets
Weight: Empty 8,140 lbs., Max Takeoff 13,795 lbs.
Wing Span: 43ft. 0in.
Length: 41ft. 3in.
Height: 13ft. 0in.
Performance:
Maximum Speed at 10,000 ft: 415 mph
Ceiling: 40,000 ft.
Range: 550 miles
Armament: Four 20-mm cannon
Number Built: 3,947
Number Still Airworthy: Approximately 4
Links:
CNAPG Meteor Page
The Flightline WWII Aviation Archive: Meteor Page
Greg Goebels' VectorSite: Meteor Development and History -- A very comprehensive history of the Meteor.
Imperial War Museum Meteor F.8, Duxford, UK
Meteor Flight -- An excellent reference and historical resource.
Meteor in Israeli Air Force Service
Meteor Page (in French)
Temora Aviation Museum's Meteor F.8
Vic Flintham's Meteor Site -- Another excellent site about the Meteor.


[Back to Warbird Alley's Main Page]
---
All text and photos Copyright 2016 The Doublestar Group, unless otherwise noted.
You may use this page for your own, non-commercial reference purposes only.
---