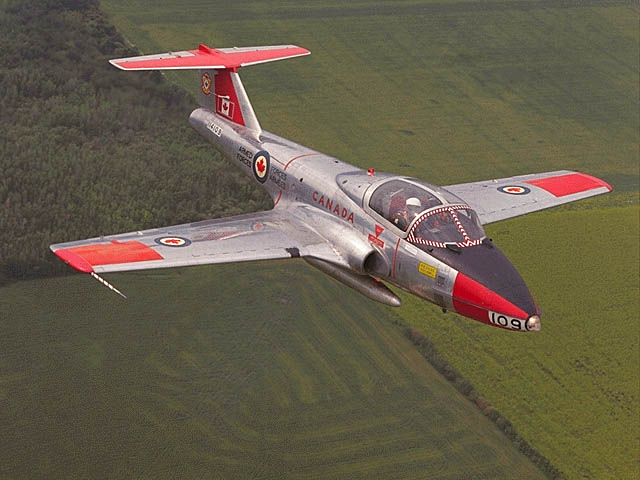 (Photo courtesy Canadian Forces.)
History: Sometimes an aircraft company needs to take a chance. Such is the case with the Canadair CL-41 Tutor. Despite the government's initial disinterest, Canadair designed and built two prototypes of this basic jet trainer. Powered by a Pratt and Whitney JT12A turbojet, this two-seat trainer first flew in January 1960. Recognizing a good thing, the Royal Canadian Air Force (RCAF) ordered 190 planes, delivered between 1963 and 1966. Features included side-by-side seats, an upward opening canopy, lateral air brakes, a T-tail and steerable nosewheel. The engine was later changed to the more powerful General Electric J-85.
The Tutor served steadfastly and effectively for over thirty years as the primary trainer of the Royal Canadian Air Force, where it was known by its RCAF designation, CT-114.
An advanced model, CL-41G (designed as a light attack aircraft), involved the fitting of an up-rated engine and six underwing hard-points, as modified landing gear for soft field landings, and 'zero-level' ejection seats. The Royal Malaysian Air Force ordered twenty of these in 1966, named the Tebuan (Wasp).
Ever since the year 2000, when the Tutor was retired from the RCAF's No.2 Flying School in Moose Jaw, Saskatchewan, Canada, few of them still fly today. At least ten are still in use with the Snowbirds aerobatic team, and the plane is also in service with Canada's Aerospace Engineering Test Establishment (AETE). One of the aircraft's last modernization programs added external fuel tanks, new avionics, and electrical system updates. Several Tutors and at least one Tebuan have made their way into private ownership in the USA.
Nicknames: "Toot"
Specifications (CL-41 Tutor):
Engine: One 2,950-pound thrust General Electric / Orenda J85-CAN-40 turbojet.
Weight: Empty 4,895 lbs., Max Takeoff 7,788 lbs.
Wing Span: 36ft. 6in.
Length: 32ft. 0in.
Height: 9ft. 0.75in.
Performance:
Maximum Speed: 480 mph
Ceiling: 42,000 ft.
Range: 650 miles with internal fuel
Armament: None (The CL-41G Tebuan could carry up to 4,000 pounds of weapons on underwing and under-fuselage hard-points.)
Number Built: ~210 (including CL-41Gs)
Number Still Airworthy: ~25, including approximately 4 as privately-owned warbirds.
Links:
Canadian Forces Snowbirds' site
DND-101 Visual Guide to Canadian Forces -- Tutor page
Tutor Close-Up Photos by Geoff McDonell
Tutor Photo Walk-Around


Canadair CT114 Tutor
Plastic Model (1:72 Scale)
By Hobby Craft


[Back to Warbird Alley's Main Page]
---
All text and photos Copyright 2016 The Doublestar Group, unless otherwise noted.
You may use this page for your own, non-commercial reference purposes only.
---