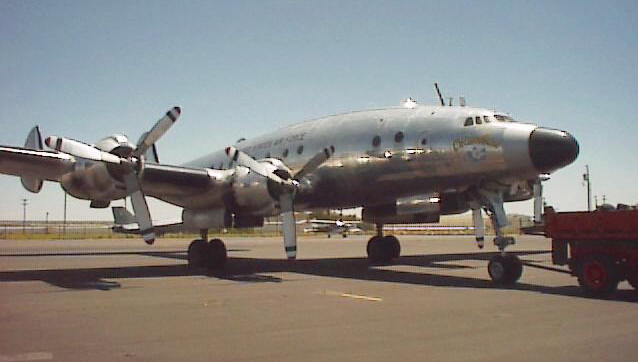 History: Design of the Constellation began in 1939, when Pan American Airways and Transcontinental & Western Air (later TWA) issued a design requirement for a 40-passenger airliner for their domestic routes. Production of the resulting L-49 by Lockheed began, but was interrupted by the outbreak of World War II. The US Army Air Corps commandeered at least 22 of the aircraft off the assembly line, designated them C-69s, and used them as transports.
After the war, when civil production resumed under several designations, the military ordered a new, longer-range version called the C-121. In the years that followed, no fewer than 20 variants were developed for military use, including the VC-121B (Presidential/VIP transport); the PO-1W (US Navy airborne early warning platform); the R7V1/C-121J (Polar ice-pack reconnaissance); VW-2/EC-121K Warning Star (Airborne Early Warning); WV-2Q/EC-121L (Electronic Countermeasures); WV-3/WQC-121N (Weather reconnaissance); RC-121D/EC-121D (USAF version of US Navy WV-2 with wingtip tanks and different interior layout); JC-121C (Avionics and systems research); and numerous others.
Civilian variants included the 48-81 passenger L-649, which was replaced in 1947 by the longer-range L-749, and then by the 109-passenger L-1049 Super Constellation in 1949. The last of the "Connies" was the L-1649A Starliner, with a completely new wing and greater fuel capacity and range. Production of all Constellations ended in the late 1950s, but the type lived on for decades as an airliner and freighter in many smaller countries.
The Constellation contributed to its national defense in so many ways that it is difficult to fully account the impact it had. The few remaining airworthy examples are increasingly appreciated for their looks, performance and versatility.
Nicknames: Connie; Po-One (US Navy PO-1 variant); Radome (US Navy WV-2 variant); Willie Victor (WV-2 Warning Star); Flying Speed Brake.
Specifications (C-121):
Engines: Four 2,200-hp Wright R-3350-34 or -91 turbo-compound radial piston engines
Weight: Empty 80,611 lbs., Max Takeoff 143,600 lbs.
Wing Span: 123ft. 0in.
Length: 116ft. 2in.
Height: 27ft. 0in.
Performance:
Maximum Speed: 321 mph
Ceiling: 23,700 ft.
Range: 4,600 miles
Armament: None
Number Built (All variants): 856
Number Still Airworthy: ~3
Links:
Airline History Museum at Kansas City (Formerly Save-A-Connie)
Aviation Safety Network, Constellation Accident Index, Part I
Aviation Safety Network, Constellation Accident Index, Part II
Aviation Safety Network, Constellation Accident Index, Part III
Connie's Comeback -- A C-121A (L749) operated by a Dutch group.
Connie's Place
ConnieSurvivors.com -- Ralph Petterson's comprehensive site covering Constellations around the world.
Connie Walk-Around
The Constellation Group -- Scottsdale, Arizona, USA
Constellation Historical Society, Inc. -- Operates N73544 in Camarillo, California, USA.
Greenwood Lake, New Jersey's "Champagne Lady" -- A history of a derelict Connie, N9412H.
Historical Aircraft Restoration Society -- Australian operators of a C-121C, among other aircraft.
Starliner.net (Lockheed 1649A Constellation for sale)
Super Constellation Flyers Association -- Swiss-owned Constellation N105CF.
The Willie Victor Site -- Dedicated to the aircrew who flew military variants of the Constellation.





[Back to Warbird Alley's Main Page]
---
All text and photos Copyright 2016 The Doublestar Group, unless otherwise noted.
You may use this page for your own, non-commercial reference purposes only.
---