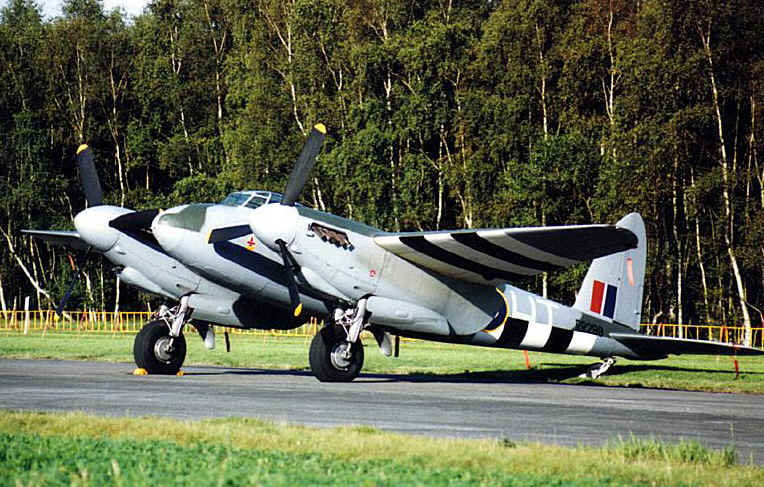 de Havilland Mosquito at Oost Malle (Belgium) Air Show in August 1993.
Photo courtesy Marcel van Leeuwen.
History: The all-wood Mosquito bomber was designed with war in mind. Powered by two Rolls-Royce Merlin engines, the Mosquito was as fast as a fighter and could carry the payload of a medium bomber. Flying high and fast, it was believed it could perform the mission without defensive armament. In a display of incredible foresight, deHavilland constructed the airplane almost entirely out of balsa and plywood in case strategic metals became scarce. The Air Ministry originally wanted nothing to do with the aircraft, and rejected it as unsuitable because of its wooden construction.

When World War Two broke out the Air Ministry began to reconsider its position. With Germany ready to unleash her wolfpacks and the United States still restrained by the Neutrality Laws, construction materials became a strategic concern. On March 1, 1940, an order for 50 Mosquitos was placed, but it was soon postponed while the Allied armies replaced the material lost on the beaches at Dunkirk. The first prototype flew on November 25, 1940, and the Air Ministry officials who had been so skeptical were amazed to see the Mosquito performing climbing rolls on one engine, and dashing across the sky at speeds expected of fighters. Production of three prototypes for official consideration were built: the Mosquito PR.Mk I, a photo-reconnaissance plane, the Mosquito B.Mk IV, a medium bomber to replace the Blenheim, and the Mosquito NF.Mk II, a night fighter. The first operational flight of the PR.Mk I confirmed the Mosquito needed no armament when on a flight over Brest it outpaced three Luftwaffe Bf 109s and returned home.

The B.Mk IV entered combat in the early months of 1942, after a period of familiarization. The Mosquito was much faster than the Blenheim and required new tactics to hit its targets. The bomber crews were soon very impressed with the amount of damage the Mosquito could absorb. Its construction took full advantage of the flexibility of its wooden construction, the two sides being fully equipped with controls and wiring runs before being joined together.

The Mosquito NF Mk II had a heavy armament of four cannons and four machineguns. It carried the AI Mk IV radar. The Mosquito NF was the first night fighter to be stationed in the Mediterranean, fighting from Malta as day and night fighter. It was also used as a night intruder, performing its first intruder mission on December 30-31, 1942. Because of its high speed, crews needed some time to grow accustomed to the new machine. For this reason, de Havilland also produced a training version, the Mosquito T.Mk III, with dual controls. All versions had a crew of two, seated side-by-side. The last Mosquitos were withdrawn from RAF photo-reconnaissance units in 1961.

The Mosquito was also manufactured under license in Australia and Canada. In all, 7781 Mosquitos were built. Today, only three Mosquitos are considered to be airworthy.

Nicknames: Mossie; Balsa Bomber; Wooden Wonder; Freeman's Folly (early nickname referring to Air Council member Sir Wilfred Freeman); Tsetse (Mk XVIII anti-shipping variant).
Specifications (FB.Mk VI):
Engines: Two 1,620-hp Rolls-Royce Merlin 25 V-12 piston engines
Weight: Empty 14,300 lbs., Max Takeoff 22,300 lbs.
Wing Span: 54ft. 2in.
Length: 40ft. 10.75in.
Height: 15ft. 3in.
Performance:
Maximum Speed: 362 mph (Later photo-recon versions could exceed 425 mph)
Ceiling: 33,000 ft.
Range: 1,650 miles with full bomb load
Armament:
Four 20-mm cannon in nose
Four 7.7-mm (0.303-inch) machine guns in nose
2,000 pounds of bombs, or 1,000 pounds of bombs and eight rockets
Number Built: 7,781
Number Still Airworthy: 4
Links:
Dr. Andy Dawson's Mosquito Page
Fillery's DeHavilland Mosquito Page
KA114 Mosquito Restoration
List of Surviving Mosquitos
Mosquito B.35 VR796 Restoration
The People's Mosquito -- To Fly, To Educate, To Remember
Vic Flintham's Mosquito Page


[Back to Warbird Alley's Main Page]
---
All text and photos Copyright 2016 The Doublestar Group, unless otherwise noted.
You may use this page for your own, non-commercial reference purposes only.
---