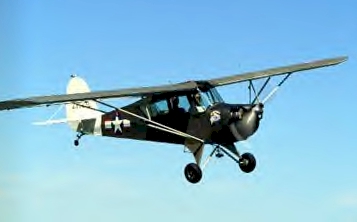 (Photo source unknown. Please contact us if you deserve credit.)
History: This two-seat light observation airplane began as Aeronca's Model 65 TC "Defender" high wing monoplane. By 1940, The US Army Air Corps had begun to see the very real need for a light plane that could be used for rapid communications and in support of ground forces. After testing planes from Piper and Taylorcraft, the Aeronca was chosen. With a single 65-hp engine, the little plane had a top speed of 100 mph, a cruising speed of 70 mph and a range of 200 miles.
Aeronca Grasshoppers had a welded steel tube fuselage and tail unit with fabric covering, while the wings were spruce and light alloy all covered in fabric, making them easily repaired in the field. Visibility out of the large Plexiglas™ windows was excellent.
Initially designated O-58 (for "observation"), shortly after entering service it was renamed with an "L" for Liaison. Over 1,400 Aeronca Grasshoppers were built during the war years and served the Army in all theaters. Many ex-military L-3s are still flying today.
Nicknames: Grasshopper
Specifications:
Engine: One 65-hp Continental O-170-3 or Continental A-65-8 flat-four piston engine.
Weight: Empty 835 lbs., Max Takeoff 1,300 lbs.
Wing Span: 35ft. 0in.
Length: 21ft. 0in.
Height: 7ft. 8in.
Performance:
Maximum Speed: 100 mph
Ceiling: 12,500 ft.
Range: 200 miles
Armament: None
Number Built: Unknown
Number Still Airworthy: 30+
Links:
Aeronca Aviators Club
Aeronca.com -- General and detailed information for Aeronca pilots, restorers, and enthusiasts.
AeroWeb L-3 Reference Page
National Aeronca Association (USA)
Sam's Airparts -- The Aeronca Specialists
Books: Browse a selection of books about liaison aircraft.

Aeronca L-3 Grasshopper
Computer Mouse Pad:


[Back to Warbird Alley's Main Page]
---
All text and photos Copyright 2016 The Doublestar Group, unless otherwise noted.
You may use this page for your own, non-commercial reference purposes only.
---