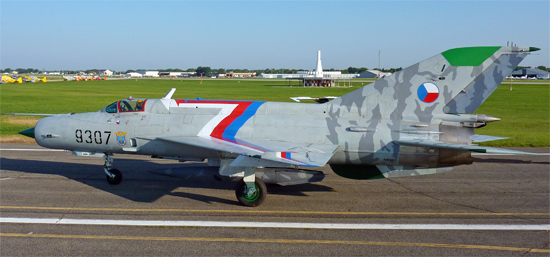 Will Ward's MiG-21MF, N9307, taxies in after arriving at Oshkosh 2010.
Photo by Buck Wyndham
History: Combat experience during the Korean War demonstrated to the Soviet Union its need for a short-range air-superiority fighter. The delta-wing MiG-21 met these requirements and through many variants and upgrades has become the world's most used fighter aircraft. It is best remembered as the tenacious foe of the F-4 Phantom during the Vietnam War.

During 1955, the MiG bureau designed the prototype E-50 in an effort to keep structural weight to a minimum for better performance. Multiple prototypes followed before this small, daytime interceptor began flying with frontline Soviet units in the late 1950s. Given the NATO reporting name "Fishbed," the MiG-21 easily matched the performance of Lockheed's F-104 Starfighter. A two-seat trainer version, the MiG-21UM, was dubbed the 'Mongol' by NATO. The MiG-21PF was the second production version built, and had all-weather interception capability. Later variants saw increased fuel capacity and heavier armament, along with better avionics. At the same time, increasingly powerful Soyuz engines were incorporated to compensate for the increasing weight.
Czechoslovakia, the Soviet Union, and China all manufactured the MiG-21, and they were exported to various Soviet satellites during the Cold War. India also produced the type under license until 1988. The Chinese F-7 variant is still in production.

The MiG-21 flies with more than 50 air forces today. Several MiG-21s of various versions are owned and flown by private individuals in the United States, and at least one (a MiG-21UM trainer) is owned by a private operator in Australia.
Nicknames: Fishbed / Mongol (NATO Codenames for MiG-21 and MiG-21 UTI trainer, respectively); Balalaika; Blue Bandit (US Codename in Vietnam); Vikram ("Valor") (Indian-built MiG-21s).
Specifications (MiG-21MF):
Engine: One 14,550-pound thrust Turmanski R-13-300 turbojet with afterburner.
Weight: Max Takeoff 20,720 lbs.
Wing Span: 23ft. 5.5in.
Length: 51ft. 8.5in.
Height: 13ft. 5.5in.
Performance:
Maximum Speed: 1,385 mph (Mach 2.1) above 36,100 ft.
Ceiling: 50,000 ft.
Range: 685 miles
Armament:
One 23-mm GSh-23 twin barrel cannon in underbelly pack
Approx. 3,300 pounds of stores on underwing pylons
Number Built: 11,000+
Number Still Airworthy: Unknown number in active military service; at least 8 airworthy in private ownership.
Cockpit Photo:



(Click for larger)

Links:
"Aero-Contact," Saxon, Germany and Minden, NV, USA -- MiG-21 acquisition, sales, service and support.
All Red Star -- Information for operators of Eastern-bloc aircraft.
Colorful Czech MiGs (photos)
Finnish Air Force Museum MiG-21
FlyMiG.com -- MiG-21 flight adventures in Moscow.
Indian Air Force (IAF) MiG-21s in Combat
Lotnictwo OnLine MiG-21 Photo Gallery
Matti Yrjola's Finnish Air Force MiG-21 Page
MiG-21.de -- Extensive archive of historical data and essays.
"Mogadishu MiGs" Photo-essay -- Amazing photos of abandoned MiGs.
Photovault Image Archive: MiG-21 Photos
Russian Military Aviation Archive: MiG-21 Page
Thomas Kraft's MiG-21 Page -- Lots of good information from a former East German MiG pilot.
USAF Museum MiG-21
Virtual Aviation Museum: MiG-21 Page


Back to Warbird Alley's Main Page]
---
All text and photos Copyright 2016 The Doublestar Group, unless otherwise noted.
You may use this page for your own, non-commercial reference purposes only.
---