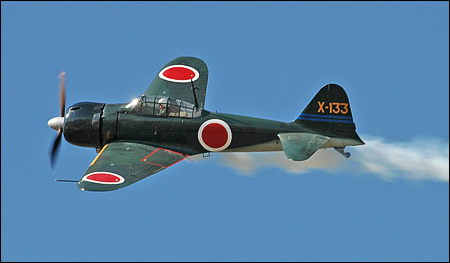 This extremely rare Mitsubishi A6M3 Zero, registered NX712Z, flies behind an American-built Pratt and Whitney R-1830 engine. Image by Max Haynes - MaxAir2Air.com.
History: Fast, maneuverable and flown by highly-skilled pilots, the Mitsubishi Zero-Sen was the most famous Japanese plane of World War Two and a big surprise to American forces. Ignored by British and American intelligence services (who had access to design plans for the aircraft years before the war) the "Zero" (it was the Navy' Type O carrier-based fighter) was armed with two 20-mm cannon, two 7.7mm machine guns, and possessed the incredible range of 1930 miles using a centerline drop tank. Though outclassed by more powerful US fighters after late 1943, the Zero remained a tough opponent throughout the war.
First flown on 1 April 1939, the A6M1 prototype was powered by a 780-hp Mitsubishi Zuisei radial engine which gave it excellent performance except for its maximum speed, which was below navy specifications. A second prototype, the A6M2, was powered by a 925-hp Nakajima Sakae engine, which was so successful that in July 1940, the type was ordered into production as the Navy Type "0" Carrier Fighter Model 11. Other variants were rapidly introduced, including a two-seat trainer, the A6M2-K; a Nakajima-built floatplane version called the A6M2-N; a performance-increased version called the A6M5; and several re-engined versions late in the war which culminated in the 1130-hp A6M8.
Pre-production Zeros were used in China from August 1940. This outstanding aircraft could travel at speeds up to 350 mph in level flight (the A6M5 version) and reach 15,000 feet in five minutes. Contrast this with America's front line fighter, the Grumman F4F Wildcat, which had a top speed was 325 mph, was not as maneuverable, and which had four .50-inch machine guns. No wonder the few Wildcat pilots rising up to defend Pearl Harbor in December, 1941 were surprised!
By late 1944, with most of its aircraft carriers sunk (and its most highly-trained aircrews gone), Japan resorted to desperate measures. These included 'Kamikaze' (divine wind) suicide raids, wherein green pilots would turn their early-model Zeros into aerial bombs for attacks on Allied ships during the battles of Okinawa, Iwo Jima and the Philippines. Truly an ignominious end for one of history's great warbirds.
Only five Zeros are considered to be airworthy today (only one with its original Sakae engine), making them among the rarest and most-prized warbirds on the display circuit today.
Nicknames: Reisen ("Rei Shiko Sentoki" -- Japanese for "Type 0 Fighter"); Zeke (Allied reporting name); Zero.
Specifications (A6M5):
Engine: One 1130-hp Nakajima NK1C Sakae 21 radial piston engine.
Weight: Empty 4175 lbs., Max Takeoff 6504 lbs.
Wing Span: 36ft. 1in.
Length: 29ft. 9in.
Height: 11ft. 5.75in.
Performance:
Maximum Speed: 346mph
Ceiling: 35,100 ft.
Range: 1118 miles with internal fuel.
Armament: Two 20-mm cannon and two 7.7-mm machine guns.
Number Built: 10,500
Number Still Airworthy: Five

[ Zero Pilot Report by John Deakin ]
Links:
Astroboy's Zerofighter World
Aviation Enthusiast's Corner: A6M Zero
Chuck Hawks' Mitsubishi A6M Zero page
Combat Aircraft of the Pacific War: A6M Zero
Michael McFayden's Scuba Diving Report -- Underwater Zero in Palau.
National Museum of Naval Aviation: A6M-2B Zero
Peter Lewis' Mitsubishi A6M Site -- Very comprehensive!
WWII [II World War] Fighters: A6M Zero -- nice full-color drawings.




[ Click for more great books about the Zero! ]



[Back to Warbird Alley's Main Page]
---
All text and photos Copyright 2017 The Doublestar Group, unless otherwise noted.
You may use this page for your own, non-commercial reference purposes only.
---