Hunting (BAC) Jet Provost
(Variants/Other Names: See History below)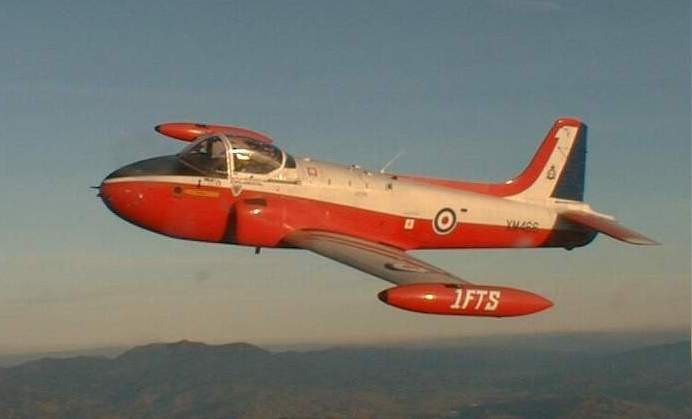 Jet Provost T.3 N7075U, ex XM466, photographed at
Nut Tree, California, 24 September 1998. Photo courtesy V.N. Smith
History: During the mid-1950's, Britain's Royal Air Force utilized converted front line jets for training purposes. The Hunting Percival Company felt it could tap into this market with an inexpensive two-seat (side-by-side) jet-powered version of its successful Provost piston engine aircraft. The RAF was impressed by the Jet Provost's handling and seating configuration; after a four year comparative trial period of the T Mk 1s, 201 Jet Provost T Mk 3s were ordered in 1959 with Martin-Baker ejection seats, tip tanks, upgraded avionics and a clear canopy.
Later manufactured by the British Aircraft Corporation, another 308 planes were delivered through 1967, a third of which were the T Mk 4, with 750 pounds more thrust. Another third were built as the T Mk 5 version with pressurized cockpit, new windscreen, sliding canopy and longer nose.
The Jet Provost design was later developed into the popular and capable BAC Model 167 Strikemaster light attack jet, but even the Jet Provost was to be armed with two machine guns on the export versions of the aircraft, the T.Mk51, T.Mk52 and T.Mk 55.
With a top speed of 440 mph, excellent maneuverability, mechanical reliability and low operating costs, the Jet Provost was an outstanding example of its type. Retired from the military, the Jet Provost is now a popular and inexpensive jet for warbird enthusiasts in England, the Netherlands, Australia and the USA.
Nicknames: J.P.
Specifications (Model T.Mk 5):
Engine: One 2,500-pound thrust Bristol Siddeley Viper Mk 202 turbojet
Weight: Empty 4,888 lbs., Max Takeoff 9,200 lbs.
Wing Span: 35ft. 4in.
Length: 34ft. 0in.
Height: 10ft. 2in.
Performance:
Maximum Speed: 440 mph
Ceiling: 36,700 ft.
Range: 900 miles
Armament: None, although export versions featured two 7.62-mm (0.3-inch) machine guns, plus underwing hardpoints for a wide variety of bombs, rockets, or missiles.
Number Built: 520+
Number Still Airworthy: 40+
Links:
Everett Aero -- A UK-based company specializing in the sale and support of British ex-military jets, including the Jet Provost.
Jet Provost Heaven -- Information about JPs and Strikemasters.
Jet Provost 3-View Drawings
PhotoVault's Jet Provost Page -- JP photos.
Puer Exuberans (XW369)
Wikipedia Jet Provost Page

Jet Provost: The Little Plane with the Big History
By Bob Clarke
The story of the Percival Jet Provost, the ubiquitous RAF jet trainer. Over 500 aircraft were constructed for the RAF alone, in fact practically every Royal Air Force pilot from 1960 until 1988 flew the aircraft. This is the first time all phases of the Jet Provost's development have been discussed and illustrated in one publication. Containing personal accounts, test and development results and presented against a backdrop of major political events, this is a thorough history of the Jet Provost.


[Back to Warbird Alley's Main Page]
---
All text and photos Copyright 2016 The Doublestar Group, unless otherwise noted.
You may use this page for your own, non-commercial reference purposes only.
---