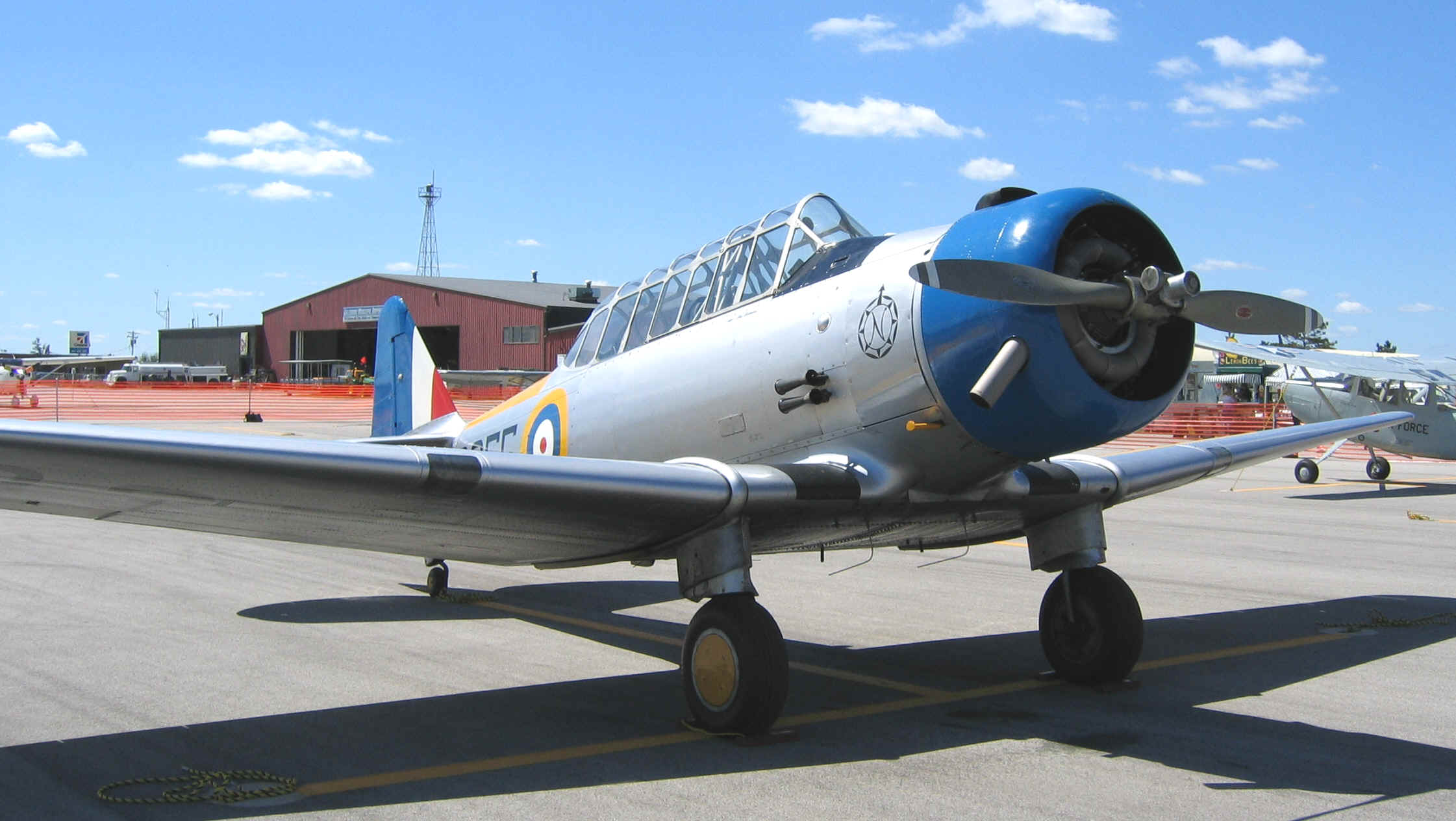 NA-64 N3355 (Serial No. 64-2172) owned by Timothy Liewer of Hershey, Nebraska, USA, photographed at Galesburg, Illinois, USA, in September 2003. Photo by Buck Wyndham.
History: First flown in prototype form in April 1935, the BT-9 was the end result of North American Aviation's private-venture NA-16 single engine basic trainer for the US Army Air Corps. A total of 226 BT-9's were ordered in three different models providing excellent training for a student and instructor under a tandem glass canopy. The US Navy also took delivery of 40 of the aircraft, which they fitted with a more powerful 600-hp engine and designated the NJ-1.
Initially, the aircraft had a fabric skin, but NAA then produced a metal-covered fuselage with a more powerful 450 hp Wright engine, designated the BT-14. 251 aircraft of this variant were bought by the Army Air Corps. Several nations also purchased the BT-14, among them France, which ordered 230, designated the NA-57. An updated version of the NA-57 was designated the NA-64. When France fell to the Germans, 1199 undelivered aircraft were sold to Britain; issued to Canada as the Yale-1.
Its lines and overall size are similar to North American's later T-6 / SNJ / Harvard trainer, and the two are often confused. The BT-9 / BT-14 / Yale is easily identified by its fixed landing gear and wheel spats.
Nicknames: Unknown
Specifications (BT-9):
Engine: One 400-hp Wright R-975-7 radial piston engine
Weight: Empty 3314 lbs., Max Takeoff 4471 lbs.
Wing Span: 42ft. 0in.
Length: 27ft. 7in.
Height: 13ft. 7in.
Performance:
Maximum Speed: 170 mph
Range: 882 miles
Armament: None
Number Built: ~750
Number Still Airworthy: 20+
Links:
Aviation Enthusiast Corner BT-14 Page
North American Trainer Association
US Air Force Museum BT-14 Page

BT-9 Plastic Model (1/72)
from Amazon.com:


[Back to Warbird Alley's Main Page]
---
All text and photos Copyright 2016 The Doublestar Group, unless otherwise noted.
You may use this page for your own, non-commercial reference purposes only.
---