Cessna O-2 Super Skymaster
(Variants/Other Names: Cessna 336/337 Skymaster)
---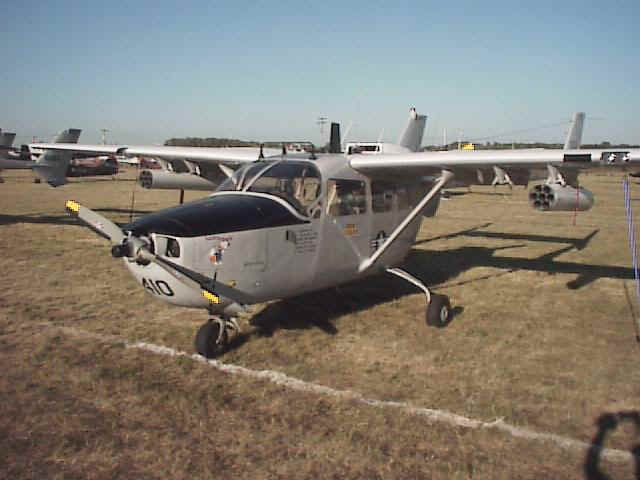 History: The Cessna O-2 Super Skymaster was ordered by the U.S. Air Force in 1966 to replace the Cessna O-1 until a purpose-built aircraft could be put into service as a Forward Air Control and light observation aircraft. Because the Skymaster was a two seater, one crewmember could be freed from piloting the aircraft to concentrate on the difficult mission of Forward Air Control, which included such diverse tasks as marking targets for air strikes, giving strike briefings to incoming attack pilots, and avoiding ground threats. This made the O-2 ideal for the FAC mission, even if low-and-slow FAC pilots had to wait until the appearance of its successor, the OV-10 Bronco, to be protected by armor plating.

The aircraft from which the O-2 sprang was originally designated the Cessna Model 336 Skymaster and was built for civilian use. The 336 had the distinctive push-pull engine layout of the O-2 and fixed landing gear. It was cheap, easy to fly, and the problem of flying a two-engine aircraft on just one engine was made easier, since asymmetrical thrust was non-existent. Early in 1965, the Model 337 entered production with retractable landing gear. After being equipped with four underwing hard-points, extra windows for the observer, and a military radio system, the Model 337 became the Cessna O-2A. A special psychological warfare version, the O-2B, was produced in limited numbers. It used three powerful directional speakers to broadcast messages, and also performed propaganda leaflet drops. The O-2 was retired from USAF service in the 1980s, but a militarized 337, marketed as the Sentry, has been supplied by the CIA to forces in Haiti, Honduras, Nicaragua, and Senegal.

During its production run, 544 O-2s were built, and some continue to serve with forestry departments across the United States. Quite a few others are flown as warbirds, including at least one in Australia. [History by David MacGillivray]
Nicknames: Duck; Mixmaster; Push-Pull; Cessna Suck-Blow; The B.S. Bomber (Nickname for O-2B psychological warfare variant).
Specifications:
Engines: Two 210-hp Continental IO-360-GB flat-six piston engines
Weight: Empty 2,787 lbs., Max Takeoff 4,630 lbs.
Wing Span: 38ft. 2in.
Length: 29ft. 9in.
Height: 9ft. 2in.
Performance:
Maximum Speed at Sea Level: 206 mph
Ceiling: 18,000 ft.
Range: 1,422 miles
Armament:
Four underwing hard-points for rockets, flares, or light ordinance such as a 7.62-mm (0.3-inch) Minigun pack.
Number Built: 2,134 Model 337s and 544 O-2s
Number Still Airworthy: 25+ operated as private warbirds; Unknown number still in active military service worldwide.
Links:
Cessna Skymaster Website (Unofficial) (UK) -- A huge amount of good information for owners and operators.
O-2/Skymaster Photo Index Page
Riley Super Skyrocket Conversion
Skymaster Owners and Pilots Association
Unofficial Skymaster Site
Aviation Enterprises - Skymaster mods and parts.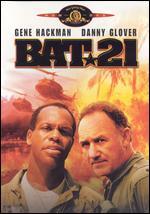 Bat 21
Format: DVD
105 minutes, Rated R
NTSC, Region 1 (USA and Canada)
Starring Gene Hackman and Danny Glover
Based on a true story, Bat 21 follows the harrowing rescue of Lt. Col. Iceal Hambleton (Gene Hackman), whose EB-66 is shot down behind enemy lines in Vietnam. The story of his ordeal is fascinating, and the aerial flying scenes involving a Forward Air Controller flying an O-2 are superb.


[Back to Warbird Alley's Main Page]
---
All text and photos Copyright 2006 The Doublestar Group, unless otherwise noted.
You may use this page for your own, non-commercial reference purposes only.
---