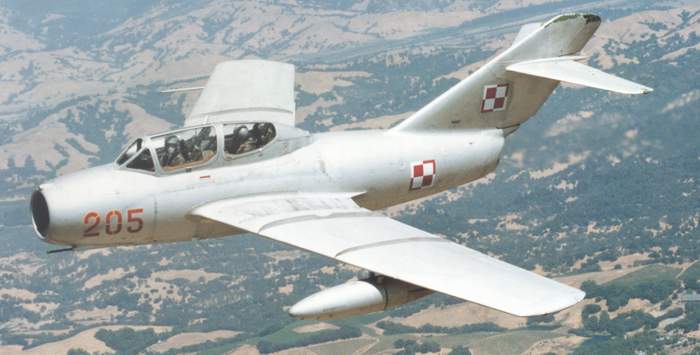 MiG-15 UTI / SBLim-2 two-seat trainer.
(Photo source unknown. Please contact us if you deserve credit.)

History: In 1948, the Soviet MiG design bureau developed a high-performance jet fighter design called the I-310. It incorporated some advanced features, such as a 35-degree wing sweep, and it promised to be a sprightly performer. However, the design lacked one essential component: A suitable engine. This problem was resolved when the British government authorized the Rolls-Royce company to export their Nene turbojet engine to Russia. As soon as the Russian Klimov design bureau received the engines, they immediately developed their own copy of the Nene, called the Klimov RD-45. Within months, the first prototype of the I-310 had flown with the new engine. The aircraft was re-designated MiG-15 and entered service early in 1949.

Later in the year, the improved MiG-15bis version appeared, and a two-seat trainer version, the MiG-15UTI, was also introduced. In 1950, Western air forces were surprised at the combat capability of the new design in the skies over Korea. The MiG-15 could out-climb, out-turn, and fly higher than the US-built F-86 Sabre. Fortunately, Allied pilots were better-trained and had better equipment installed in their aircraft, and they prevailed against the MiG.

The MiG-15 was eventually built under license in Czechoslovakia as the A-102, S-102 and two-seat CS-12; and in Poland as the LIM-1, LIM-2, and two-seat LIM-3 and SBLim2. China also built many components of the airplane. As would be expected, many Warsaw Pact nations used the MiG-15, and after the introduction of the MiG-17 and MiG-19, the -15 was retired as a fighter and became the standard advanced trainer of the Eastern bloc. In the late 1980s, the first MiG-15 appeared on the civilian register in the USA, and in the last decade, at least 20 have been licensed as warbirds around the world.

Nicknames: Fagot / Midget (NATO Codename for MiG-15 and MiG-15UTI trainer, respectively); Matushka ("Mother"); Baboushka ("Grandmother"); Jaguar (Hungarian AF nickname for MiG-15); Eagle (Hungarian AF nickname for MiG-15bis).

Specifications (MiG-15bis):
Engine: One 5,952-pound thrust Klimov VK-1 turbojet
Weight: Empty 8,115 lbs., Max Takeoff 13,327 lbs.
Wing Span: 33ft. 0.75in.
Length: 35ft. 7.5in.
Height: 12ft. 1.75in.
Performance:
Maximum Speed at Sea Level: 668 mph
Ceiling: 50,855 ft.
Range: 1,156 miles
Armament:
One 37-mm N-37 cannon
Two 23-mm NS-23 or NR-23 cannon
Up to 1,100 pounds of mixed stores on underwing hard-points

Number Built: 8,000+ built in USSR alone, many thousands built in Poland and Czechoslovakia.

Number Still Airworthy: 15+

Links:
Air Combat Australia -- Bankstown, New South Wales, Australia
All Red Star -- Information for operators of Eastern-bloc aircraft.
Jet Warbird Training Center -- Santa Fe, New Mexico, USA.
FlyMiG.com -- MiG flight adventures in Moscow.
MiG Fury Fighters -- Airshow team based in Driggs, Idaho, USA.
MiG vs.Sabre Anatomy -- NOVA interactive feature.
"Performance of the MiG-15 in Aerial Combat" -- Article by Wayland Mayo.







[ Click for more great books about MiGs ]


[Back to Warbird Alley's Main Page]
---
All text and photos Copyright 2016 The Doublestar Group, unless otherwise noted.
You may use this page for your own, non-commercial reference purposes only.
---