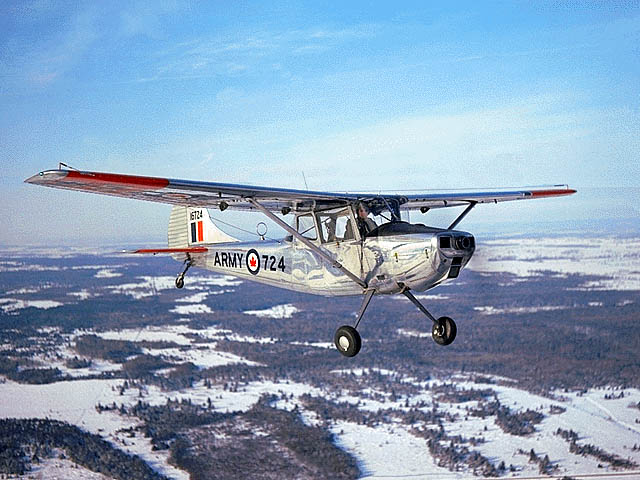 Photo courtesy Canadian Forces
History: One of a long line of civilian light planes converted to military use (like the Taylor, Piper, and Stinson "Grasshoppers" of World War II fame), the Cessna L-19 "Bird Dog" observation and Forward Air Control aircraft traced its origins to the Cessna 170, a 4-place civilian light plane, with its military power upgraded from 145 to 213hp.

Winning a U.S. Army contract in 1950 with its Model 305A redesign of the Model 170, Cessna was awarded an initial contract for 418 of the aircraft, which were then designated L-19A, and named "Bird Dog." By the time the final craft was manufactured in 1962, over 3,400 Bird Dogs had been built.

Structurally, the military version differed significantly from its civilian progenitor, with the passenger capacity reduced by two, the aft superstructure radically revised to provide a clear view rearward, and transparent panel being inserted in the wing above the seats. The access door was made wider to accommodate a standard military stretcher, for which support brackets were installed. The L-19 was judged to be much better in terms of performance on takeoff and climb than its world War II predecessors, as well as more comfortable for the pilot and observer.

In 1953, an L-19A-IT version was developed to provide instrument training capability. Of the 2,486 L-19s delivered by 1954, 60 were reassigned to the U.S. Marine Corps where they were designated OE-1.

Although they were only used in small numbers during the Korean War, Bird Dogs were widely employed during the early days of the Vietnam war, when the U.S. Air Force acquired many to use in the Forward Air Control and observation roles, for which they were upgraded to carry wing stores, such as White Phosphorus ("Willie-Pete") target-marking rockets.

In 1956, constant-speed propellers were first installed in the TL-19D trainer version. The final production variant, the improved L-19E, had a higher gross weight.

Aircraft model identification coding was changed by the U.S. armed forces in 1962, with the result that US Army L-19A, TL-19D and L-19E aircraft became O-1A, TO-1D and O-1E respectively, while the US Marine OE-1 became O-1B. The Marine Corps also received 25 of the higher-powered O-1C. Standard production models of the U.S. Army trainers were re-designated TO-1A and TO-1E. Supplied to many nations, Bird Dogs were also built under license in Japan.

In the 1970s, a Texas company, Ector Aircraft, created "civilianized" conversions of the Bird Dog called the Mountaineer (213-hp) and Super Mountaineer (240-hp).

While long out of production, some Bird Dogs are still in active use around the world. In Canada, for instance, O-1s were deactivated in 1973 by the Canadian Army (with whom it first entered service in 1954), but 17 were subsequently reassigned to the Royal Canadian Air Cadets for glider towing and familiarization flying. On the civilian market, Bird Dogs have become popular as economical warbirds in the United States and Australia.
Nicknames: Unknown
Specifications (O-1E):
Engine: One 213-hp Continental O-470-11 flat-six piston engine
Weight: Empty 1,614 lbs., Max Takeoff 2,400 lbs.
Wing Span: 36ft. 0in.
Length: 25ft. 9in.
Height: 7ft. 3.5in.
Performance:
Maximum Speed: 151 mph
Range: 530 miles
Armament: Four underwing pylons for mixed stores of smoke canisters and "Willie-Pete" white phosphorus marking rockets.
Number Built: 3,431
Number Still Airworthy: 120+
Cockpit Photo (O-1G N16886):



(Click for larger)

Links:
International Bird Dog Association
International Liaison Pilots and Aircraft Ass'n (ILPA)
Standard Aircraft Characteristics: O-1C (Navair Publication) (.pdf)


[Back to Warbird Alley's Main Page]
---
All text and photos Copyright 2016 The Doublestar Group, unless otherwise noted.
You may use this page for your own, non-commercial reference purposes only.
---