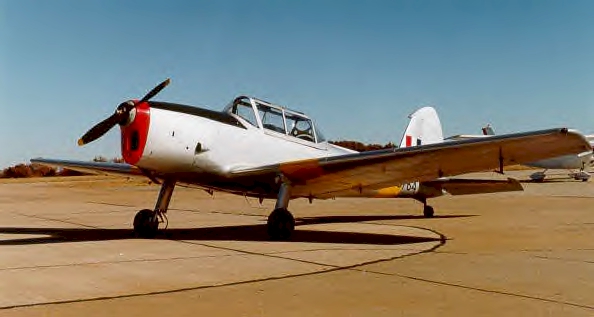 deHavilland T 10 Chipmunk
(Photo source unknown. Please contact us if you deserve credit.)
History: Developed just after World War II, the DHC-1 Chipmunk was the first aircraft designed by deHavilland of Canada to replace the deHavilland Tiger Moth as a single-engine basic trainer. The Chipmunk first flew on 22 May 1946. Initially, 218 Chipmunks were built for the Royal Canadian Air Force, followed, after a change to the Gipsy Major 8 engine, by 735 planes for the RAF's primary pilot training bases. These were designated as T 10s.
The British version also differed by being fully aerobatic and having a sliding, multi-paneled canopy rather than the 'bubble' typical in Canada. Another 217 of the versatile, easily-mastered Chipmunks were built for export sale, and 60 were built under license in Portugal. Not fully retired until 1996, many examples are still flying in private hands worldwide.
Nicknames: Chippie; Flying Sardine
Specifications (T Mk 10):
Engine: One 145-hp deHavilland Gypsy Major 8 inline piston engine.
Weight: Empty 1425 lbs., Max Takeoff 2014 lbs.
Wing Span: 34ft. 4in.
Length: 25ft. 5in.
Height: 7ft. 0in.
Performance:
Maximum Speed: 138 mph at sea level
Ceiling: 15,800 ft.
Range: 280 miles
Armament: None
Number Built: 1,075+
Number Still Airworthy: 130+

[Chipmunk Pilot Report by Budd Davisson]
Cockpit Photo: (DHC-1 Chipmunk N26JH):



(Click for larger)
Links:
Airborne Aviation -- Chipmunk flight training, and scenic / aerobatic / formation flights in Sydney, Australia.
Chipmeet -- Chipmunk gathering in Belgium
"Cozy Driver Rides in a Chipmunk" -- An article by Joe Hobbs
CNAPG Chipmunk Page including searchable database of serial numbers.
Daniel K.'s Aviation Images: Chipmunk Photo Feature
DH Support -- Maintenance and regulatory support for the Chipmunk.
Kiwi Aircraft Images' Chipmunk Page
RCAF Chipmunk Page
Chipmunk Pilots Notes available from here:


[Back to Warbird Alley's Main Page]
---
All text and photos Copyright 2016 The Doublestar Group, unless otherwise noted.
You may use this page for your own, non-commercial reference purposes only.
---