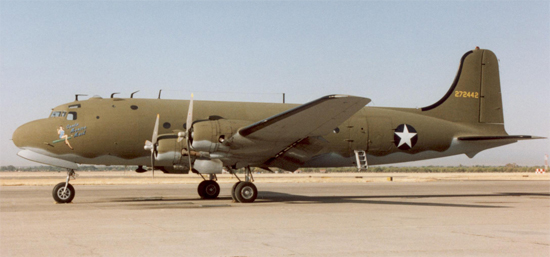 A Douglas C-54D Skymaster repainted in WWII US Army Air Force markings at Chico, California in October 1992. (Photo by RuthAS, used via Creative Commons Attribution 3.0 Unported license.)
History: When it was decided that the President of the United States, Franklin D. Roosevelt, should have a personal airplane to transport him to meetings around the world, the aircraft of choice was the US Army Air Corps' (USAAC) C-54A Skymaster. Dubbed 'The Sacred Cow', this was the plane that took the president to Tehran, Casablanca, Hawaii and other less exotic spots in the USA.
The C-54 was the military derivative of the Douglas DC-4, a four-engine long range airliner with a three-man crew and accommodations for up to 49 passengers or 26 troops. Originally designed to a specification from United Airlines, the DC-4 had a maximum speed of 274 mph and a range of 3900 miles. The first 61 civilian orders were followed by a further buy for 71 from the USAAC though, in the end, most ended up in Army service.
To meet the military's more stringent needs, the DC-4 was given a cargo door, stronger floor, cargo boom hoist and larger wing tanks. First flight of the military C-54 occurred on 26 March 1942. During the war years, 1242 C-54s were delivered with a wide variety of modifications. A few of the major ones were the C-54A, the original, fully militarized model capable of lifting 50 soldiers or 32,500 pounds of cargo; the JC-54D, which was modified for missile nose cone recovery; the C-54E, with larger Pratt & Whitney engines, bigger fuel tanks for longer range and a specially designed cabin for quick conversion between passenger and cargo roles; the C-54M, which was a C-54E stripped out to serve as a coal-carrier during the Berlin Airlift; the EC-54U, a post-war modification as an electronic counter-measures platform; and at least 14 sub-variants built for the US Navy originally called the R5D. There were numerous other variants which performed countless other roles, from VIP transport to multi-engine training.
The C-54 offered sterling service for both the USAF and the US Navy after the war, and was not fully retired until the late 1960's. Ex-military Skymasters became popular as cargo transports and fire bombers, and many are still in active use around the world in these roles. A lucky few have been acquired by appreciative warbird groups in the USA.
Nicknames: The Sacred Cow (FDR's personal transport); Rescuemaster (US Air Force's SC-54D air-sea rescue variant.)
Specifications:
Engines: Four 1,450-hp Pratt & Whitney R-2000-2SD-13G Twin Wasp radial piston engines.
Weight: Empty 43,300 lbs., Max Takeoff 73,000 lbs.
Wing Span: 117ft. 6in.
Length: 93ft. 10in.
Height: 27ft. 6in.
Performance:
Maximum Speed: 280 mph at 14,000 ft.
Ceiling: 22,300 ft.
Range: 2,500 miles
Armament: None
Number Built: 1000+ (military versions)
Number Still Airworthy: At least 100
Links:
AeroWeb C-54 Specs Page
Air Force Association C-54 Page
Berlin Airlift Historical Foundation -- Operates C-54E / R5D "Spirit of Freedom."
CNAPG DC-4 (C-54) Page
Israeli Air Force Transports
Photovault C-54 Photo Page



[Back to Warbird Alley's Main Page]
---
All text and photos Copyright 2016 The Doublestar Group, unless otherwise noted.
You may use this page for your own, non-commercial reference purposes only.
---