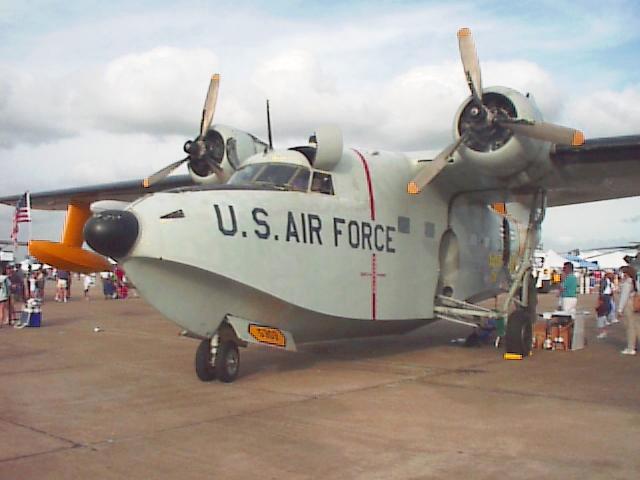 (Photo source unknown. Please contact us if you deserve credit.)
History: Inspired by the performance of the Grumman Goose during WWII, the U.S. Navy solicited Grumman to design a significantly larger amphibian with longer range. In 1944, Grumman submitted and won approval of its design G-64, to be named "Albatross," with accommodation for a crew of four, and a cabin capacity of 10 passengers, stretchers, or 5,000 pounds of cargo, as circumstances dictated. In addition, there were pylons under the wing and outboard of the engines which made it possible to carry weapons or drop tanks for increased range. In addition, fuel could be carried in the fixed underwing floats.

Ordered by the Navy as a utility aircraft, the prototype which flew first in October of 1947, was designated XJR2F-1, going into production as the UF-1.

Too late for service in World War II, the Albatross was used extensively in the Korean and Vietnam wars. Experience with the UF-1 led to a number of modifications, such as more effective de-icing boots for the leading edges of airfoils, increased wing span, redesign of the leading edge to increase lift, and an increase in the area of the ailerons and tail surfaces. The revised model, introduced in 1955, was called UF-2.

Ten were used by the Royal Canadian Air Force, joining that service in October of 1960 as a triphibious (land/sea/snow-ice) vehicle providing search and rescue, and mercy flights, for the Canadian mainland, coastal waters and the Arctic archipelago.

When the U.S. Armed Services went through a rationalization of their craft designations, the two models became the HU-16C and HU-16D, respectively. Aircraft specially winterized for Antarctic service that had been designated UF-1L became LU-16C, and five dual control trainers initially designated UF-17 became TU-16C.

Impressed with the potential of the G-64 for rescue operations, the USAF ordered 305 planes, assigning most to the Air Rescue Service of the Military Air Transport Service with the designation SA-16A. In 1957 an improved version equivalent to the Navy's UF-2 went into service as the SA-16B. When the names were "rationalized" in 1962, they became the HU-16A and HU-16B, respectively.

Albatrosses assigned to the U.S. Coast Guard originally designated UF-1G were reclassified as HU-16E, and the 10 supplied to Canada were designated CSR-110.

An anti-submarine version, the SHU-16B, was introduced in 1961, redesigned to carry a few small depth charges. It was also equipped with a nose radome, retractable MAD (Magnetic Anomaly Detector) gear, ECM radome and searchlight to enable it to find targets for those weapons.

The final official Grumman classification was G-111, devised in the 1970s as the result of a collaborative effort between the manufacturer and Resorts International to convert the military aircraft to an airliner. Of the 57 surplus aircraft purchased for rehabbing, 12 were completed and placed in storage by Chalk Airlines of Miami, where they remain. Despite that disappointing outcome, by 1997 there were 92 Albatrosses on the US civil registry, of which 30 were still flying as island-hopping airliners, or as customized executive aircraft. Thus, the Grumman HU-16 "Albatross" continues to fulfill the people-hauling part of the role that it was intended for when it first entered military service with the United States Air Force, Navy and Coast Guard, eventually serving 22 foreign governments as well.
Nicknames: Duckbutt; Dumbo; Goat
Specifications (HU-16D):
Engines: Two 1,425-hp Wright R-1820-76A or -76B Cyclone 9-cylinder radial piston engines
Weight: Empty 22,883 lbs., Max Takeoff 35,700 lbs.
Wing Span: 96ft. 8in.
Length: 61ft. 3in.
Height: 25ft. 10in.
Performance:
Maximum Speed: 236 mph
Cruising Speed: 150 mph
Ceiling: 21,500 ft.
Range: 2,850 miles with full internal and external fuel tanks
Armament: None
Number Built: 464, plus 2 prototypes
Number Still Airworthy: 34
Links:
American Warbirds, Inc., Carson City, Nevada, USA -- Albatross specialists
Grumman Albatross Web Site -- Lots of great Albatross information!
Seaplane Operations, LLC, Zephyr Cove, Nevada, USA -- Albatross training



[Back to Warbird Alley's Main Page]
---
All text and photos Copyright 2016 The Doublestar Group, unless otherwise noted.
You may use this page for your own, non-commercial reference purposes only.
---