Douglas A-26 Invader
(Variants/Other Names: Douglas B-26 Invader -- Do not confuse with Martin B-26 Marauder. Also JD-1, UB-26, CB-26, DB-26, TB-26, FA-26, RB-26, EB-26, VB-26. Numerous civilian variants -- see History below.)
---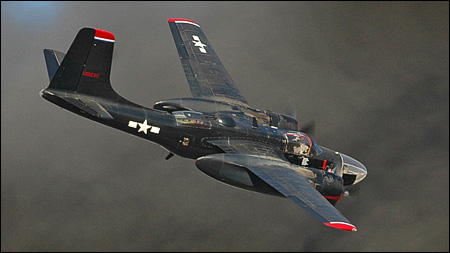 This A-26, named "Lady Liberty" (N9682C), is operated by the Commemorative Air Force.
Image by Max Haynes - MaxAir2Air.com.
History: The A-26, the last aircraft designated as an "attack bomber," was designed to replace the Douglas A-20 Havoc/Boston. It incorporated many improvements over the earlier Douglas designs. The first three XA-26 prototypes first flew in July 1942, and each was configured differently: Number One as a daylight bomber with a glass nose, Number Two as a gun-laden night-fighter, and Number Three as a ground-attack platform, with a 75-millimeter cannon in the nose. This final variant, eventually called the A-26B, was chosen for production.
Upon its delivery to the 9th Air Force in Europe in November 1944 (and the Pacific Theater shortly thereafter), the A-26 became the fastest US bomber of WWII. The A-26C, with slightly-modified armament, was introduced in 1945. The A-26s combat career was cut short by the end of the war, and because no other use could be found for them, many A-26s were converted to JD-1 target tugs for the US Navy.
A strange aircraft-designation swap occurred in 1948, when the Martin B-26 Marauder was deactivated and the Douglas A-26 was re-designated the B-26. (It kept this designation until 1962.) B-26s went on to serve extensively in both the Korean and Vietnam wars. In Vietnam, they were commonly used in the Counter-Insurgency (COIN) role, with very heavy armament and extra power. This version, the B-26K, was based in Thailand and was, to confuse things further, called the A-26 for political reasons. B-26s were also used for training, VIP transport, cargo, night reconnaissance, missile guidance and tracking, and as drone-control platforms.
Post-war uses of the airplane included luxurious executive transport (Smith Tempo I; Tempo II and Biscayne 26; LAS Super-26; Berry Silver-Sixty; Monarch-26; On-Mark Marketeer/Marksman), aerial surveying and, most notably, firefighting, a role in which it is still occasionally used today.
Nicknames: Unknown
Specifications (A-26B):
Engines: Two 2000hp Pratt & Whitney R-2800-79 radial piston engines
Weight: Empty 22,370 lbs., Maximum Takeoff 35,000 lbs.
Wing Span: 70ft. 0in.
Length: 50ft. 9in.
Height: 18ft. 6in.
Performance:
Maximum Speed at 15,000 ft: 355 mph
Ceiling: 22,100 ft
Range: 1,400 miles
Armament:
Six 12.7mm (0.5 in.) machine guns in nose
Two 12.7mm (0.5 in.) machine guns each in ventral and dorsal turrets
6000 lbs. of bombs
Eight 127mm (5-inch) rockets
Number Built: 2,446
Number Still Airworthy: ~40
Links:
A-26K N4988N -- A website documenting the restoration of the only flyable "K"-model A-26.
A-26 Legacy Foundation
A-26 N119DR -- An A-26 at Gillespie Field, San Diego, California, USA.
A-26 Parts Available
PhotoVault A-26 Images
Pilot Training Manual for A-26 on CD-ROM
Zeno's Drive In Video: Invader Flying Tips


[ We have more books about the A-26 Invader. And some models! ]



[Back to Warbird Alley's Main Page]
---
All text and photos Copyright 2016 The Doublestar Group, unless otherwise noted.
You may use this page for your own, non-commercial reference purposes only.
---