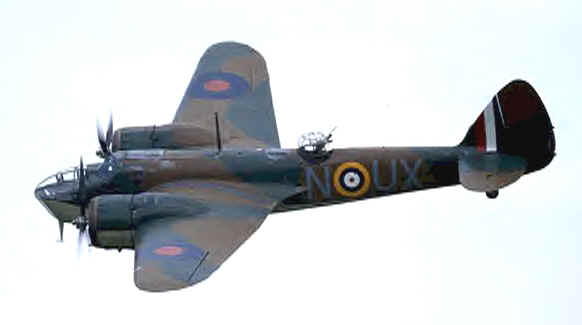 (Photo courtesy Paul Vitone)
History: The Blenheim was originally built in in England in 1934 as one of the first executive planes for the proprietor of the Daily Mail, Lord Rothermere, who wanted a fast plane capable of carrying six passengers, a pilot and a co-pilot. Equipped with two Bristol Mercury engines, the Bristol Type 142, as it was then called, was 30 mph (48km/h) faster than the RAF's new biplane fighter, the Gloster Gauntlet.

Bristol began designing a military version of their new aircraft, the Type 142M. The Air Ministry placed an order for 150 aircraft in the summer of 1935, and a second order for 434 more followed in July of 1937. The Type 142M, or Blenheim I, as it was now called, had a bomb aimer's station in the nose, an internal bomb bay, and a dorsal machine gun turret for self-defense. There was also a single machine gun in the port wing. The Blenheim was of all-metal construction, with the nose of the plane barely extending beyond the engines. It was equipped with two Bristol Mercury engines. When first revealed to the public, the Blenheim's speed attracted great notice and led to the belief Britain was armed with the best bomber in the world. This myth became self-perpetuating and soon two new production lines had to be set up as orders for still more aircraft were placed. A total of 1,552 Blenheim Is were built and equipped 26 RAF squadrons at home and in British possessions in the Middle East (e.g. Egypt, Iraq, Aden) and the Far East (e.g. India, Malaya/Malaysia, Singapore).

During the early stages of development the Bristol company designed a derivative of the Blenheim, the Type 149, in response to an Air Ministry request for a coastal reconnaissance and light bomber aircraft to replace the Avro Anson. The Type 149 was a Blenheim with greater fuel capacity and a lengthened nose for an observer and his gear. The Air Ministry then began to worry that this new aircraft would interfere with the production of the Blenheim I already underway. Instead, the Royal Canadian Air Force (RCAF) ordered production in Canada as the Bolingbroke Mk I, and the prototype was shipped to Canada to help start the production lines at Fairchild Aircraft Ltd. The Type 149 would enter production in the UK as the Blenheim Mk IV. By 1939, most Blenheim Is had been replaced in Britain by the new Mk IV. The Mk Is continued to serve as trainers and a number were converted into night fighters.

The night fighter version, the Blenheim IF, was equipped with a special under-fuselage pack that housed four machineguns, and an airborne interception radar. It was a Blenheim IF that made the first radar-assisted kill of the war in July of 1940. The Blenheim would also become the first aircraft to make reconnaissance and bombing raids into Germany during the opening stages of the war in the west. The Blenheim Mk IV would equip 70 squadrons at its height of popularity, and continue to serve in the Middle and Far East until the last years of the war. A Blenheim Mk V was also built, with extra armor and weapons, but the same engines. This meant it was an extremely slow aircraft and after serious losses in Italy, it was withdrawn from service.

Today only a single Blenheim IVT, actually a RCAF Bolingbroke, remains airworthy. It is owned and operated by the Aircraft Restoration Company at Duxford, UK, and has been flying since May 1993. [History by David MacGillivray]
Nicknames: Blenburgher (early Blenheim nickname); Bisley (nickname for the Mk.V version; Refers to the home of the National Rifle Association in the UK); Boly (Canadian nickname for the Bolingbroke).
Specifications (Blenheim Mk IV):
Engines: Two 905-hp Bristol Mercury XV radial piston engines
Weight: Empty 9,790 lbs., Max Takeoff 14,400 lbs.
Wing Span: 56ft. 4in.
Length: 42ft. 7in.
Height: 9ft. 10in.
Performance:
Maximum Speed: 266 mph
Cruising Speed: 198 mph
Ceiling: 27,260 ft.
Range: 1,460 miles
Armament: Three 7.7-mm (0.303-inch) machine guns, plus up to 1,000 pounds of bombs internally and 320 pounds externally.
Number Built: 4,422
Number Still Airworthy: One
Links:
Aircraft Restoration Company (UK) -- Blenheim Page -- The only airworthy Blenheim.
Canadian Warplane Heritage Museum -- Bolingbroke
Quesbec Air and Space Museum: Bolingbroke restoration
RAF 211 Squadron (Bomber) -- Don Clark's very informative site on a WWII Blenheim squadron.


Special Book Offering:
The Forgotten Bomber: The Story of the Restoration of the World's Only Airworthy Bristol Blenheim
By Graham Warner
Hardcover, 192 pages
Published 1991 by Motorbooks International
This is the story of how a small private team of mainly volunteer enthusiasts re-created the world's only flying example of the Bristol Blenheim, the derelict remains of which stood through 40 Canadian winters. It tells how, after a painstaking 12-year restoration to "better than new" airworthy condition, it crashed and was destroyed within a month of completion and the team had to start all over again with another dilapidated airframe. Also explained is the reason why the team thought the Blenheim too important to be allowed to fade into obscurity.


[Back to Warbird Alley's Main Page]
---
All text and photos Copyright 2014 The Doublestar Group, unless otherwise noted.
You may use this page for your own, non-commercial reference purposes only.
---