Folland Fo.141 Gnat
(Variants/Other Names: Gnat Mk II "Ajeet")
---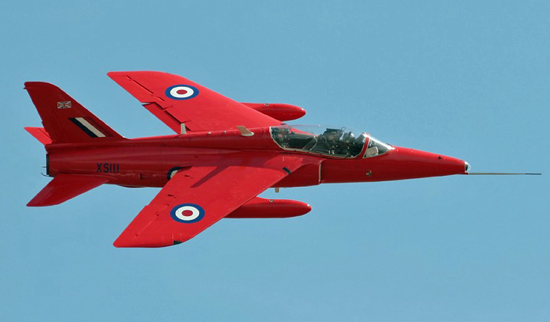 History: The Fo.141 Gnat was a British all-metal fighter and trainer designed by Folland to be small and economical, yet capable of high performance. Derived from the even-more-diminutive Fo.139 Midge prototype, the Gnat possessed outstanding performance features including a 10,000 foot-per-minute climb rate, and a roll rate in excess of 360 degrees per second.

The prototype first flew in 1955, when it demonstrated performance impressive enough to warrant the manufacture of six test aircraft for the Ministry of Supply. These aircraft were used in a variety of configurations, including the fitting of one with two 30mm cannon to test the aircraft's effectiveness in the ground attack role. However, the British government subsequently lost interest in the Gnat as a possible fighter, deciding instead to employ it as an advanced two-place trainer.

For that role, Folland made significant changes to the aircraft, installing a second seat, a larger engine, a different wing and tail, and revised control-surface installation. The plane entered production with the RAF as the Fo.144 Gnat Trainer (later renamed the Gnat T.Mk1) but not until Folland was taken over by Hawker Siddeley at the insistence of the British government, which preferred to deal with a select few large, industrial groupings, rather than small, private-venture companies like Folland.

In the meantime, however, Folland sold 13 Gnats (the last two of which were reconnaissance versions) to the Finnish government, which kept them in service until 1974. (An interesting side note: The day after the first two Gnats were delivered to Finland, Finnish Air Force Major Lauri Pekuri exceeded the speed of sound in a Gnat, the first time this speed had been achieved by the Finns.) Two Gnats were also sold to Yugoslavia, but the bulk of sales went to India, which purchased 40 airframes in various stages of completion and, under license, built 175 of the aircraft at the Hindustani Aircraft facilities at Bangalore as the Gnat Mk.II "Ajeet."

The Gnat was used by the British Yellowjacks / Red Arrows aerobatic team from 1964 through 1979, when it was replaced by the British Aerospace Hawk T.Mk.1. It was with the Indian Air Force, however, that the Gnat came into its own as a fighter aircraft. During the 1965 war with Pakistan, the Gnat is credited with downing seven Pakistani F-86 (Sabre) aircraft.

In their training role in the UK, Gnats were effective training aircraft for several generations of student jet pilots, and were a common sight in the skies above RAF Valley, UK before their retirement in November 1978.

In the USA, a handful of Gnats enjoy continued life as privately-owned sport jets.

Nicknames: Pocket Fighter; Sabre Slayer (India)

Specifications:
Engine: One 4,230-pound thrust Bristol Siddeley Orpheus 100 turbojet
Weight: Empty 5,140 lbs., Max Takeoff 8,630 lbs.
Wing Span: 24ft. 0in.
Length: 31ft. 9in.
Height: 9ft. 7.5in.
Performance:
Maximum Speed at 31,000 ft: Advertised at 636 mph/Mach 0.95, but the aircraft is capable of approximately Mach 1.3.
Ceiling: 48,000 ft.
Range: 1,151 miles with two 300-liter underwing tanks
Armament: None

Number Built: 105

Number Still Airworthy: Approximately 8 in private ownership.

Links:
Gnat Display Team -- North Weald, UK
Greg Goebel's Gnat Page
JetPhotos -- Gnat photos
Photovault -- Gnat Photo Page
Red Arrows Folland Gnat Gallery
Thunder and Lightnings: Folland Gnat History
Virtual Aviation Museum Gnat Page
Wonderful World of Vehicles: Gnat FR Mk. 1

Special Feature:
"Red Jet Over Lincoln Land" -- Associate Editor Job Conger describes an air-to-air photo mission with Dean Cutshall's Gnat.




[Back to Warbird Alley's Main Page]
---
All text and photos Copyright 2011 The Doublestar Group, unless otherwise noted.
You may use this page for your own, non-commercial reference purposes only.
---