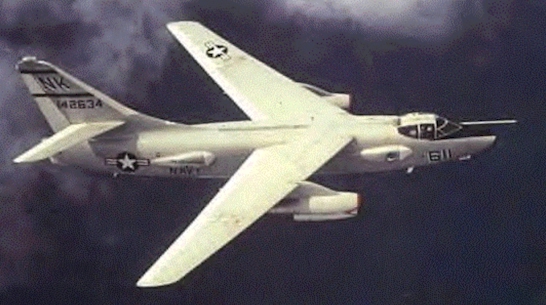 (Photo source unknown. Please contact us if you deserve credit.)
History: In the 1949, a whole new class of aircraft carrier was under development by the US Navy: the Forrestal-class "supercarrier." To capitalize on the enormous size and launching capability of these new ships, a huge new attack bomber was developed by Douglas Aircraft. The world's largest and heaviest carrier-borne aircraft when it was designed, the A3D first flew in October 1952, and entered service in 1954. Because of its size, it was quickly christened "The Whale" by its crews. In its vast internal bomb bay it could carry up to 12,000 lbs. of various weapons, and it carried radar for blind bombing.
In 1962 the Whale's designation was changed to A-3. Eventually, the airplane was updated with more powerful engines and an aerial refueling probe.
As time went on, many other uses for the aircraft were developed, resulting in many variants, including the KA-3B (aerial refueling), EA-3A/B (electronic reconnaissance), ERA-3B (electronic countermeasures), RA-3 (photo reconnaissance), TA-3B (radar training), EKA-3B (combined tanker/countermeasures/strike), test work (NA-3B and NRA-3B), and even a VIP transport model (VA-3B).
The Skywarrior saw steady action throughout the Vietnam War, and a few even served in the 1991 Persian Gulf War. Today, though they have retired from active duty, a few still serve in civilian roles with the California-based Hughes/Raytheon company, where they are used for defense contract work.
Nicknames: Whale; Electric Whale/Queer Whale (A3D-1Q/2Q electronic warfare models); All 3 Dead (A3D) (Due to having no ejection seats).
Specifications (A-3B):
Engines: Two 10,500-pound thrust Pratt & Whitney J57-P-10 turbojets.
Weight: Empty 39,409 lbs., Max Takeoff 82,000 lbs.
Wing Span: 72ft. 6in.
Length: 76ft. 4in.
Height: 22ft. 9.5in.
Performance:
Maximum Speed: 610 mph at 10,000 ft.
Cruising Speed: 520 mph
Ceiling: 41,000 ft.
Range: 1,050 miles
Armament: Two 20-mm radar-controlled cannon in rear turret; up to 12,000 pounds of various weapons in internal weapons bay.
Number Built: 280.
Number Still Airworthy: ~6.
Links:
A-3 Skywarrior.com -- The definitive site for A-3 information!




[Back to Warbird Alley's Main Page]
---
All text and photos Copyright 2016 The Doublestar Group, unless otherwise noted.
You may use this page for your own, non-commercial reference purposes only.
---