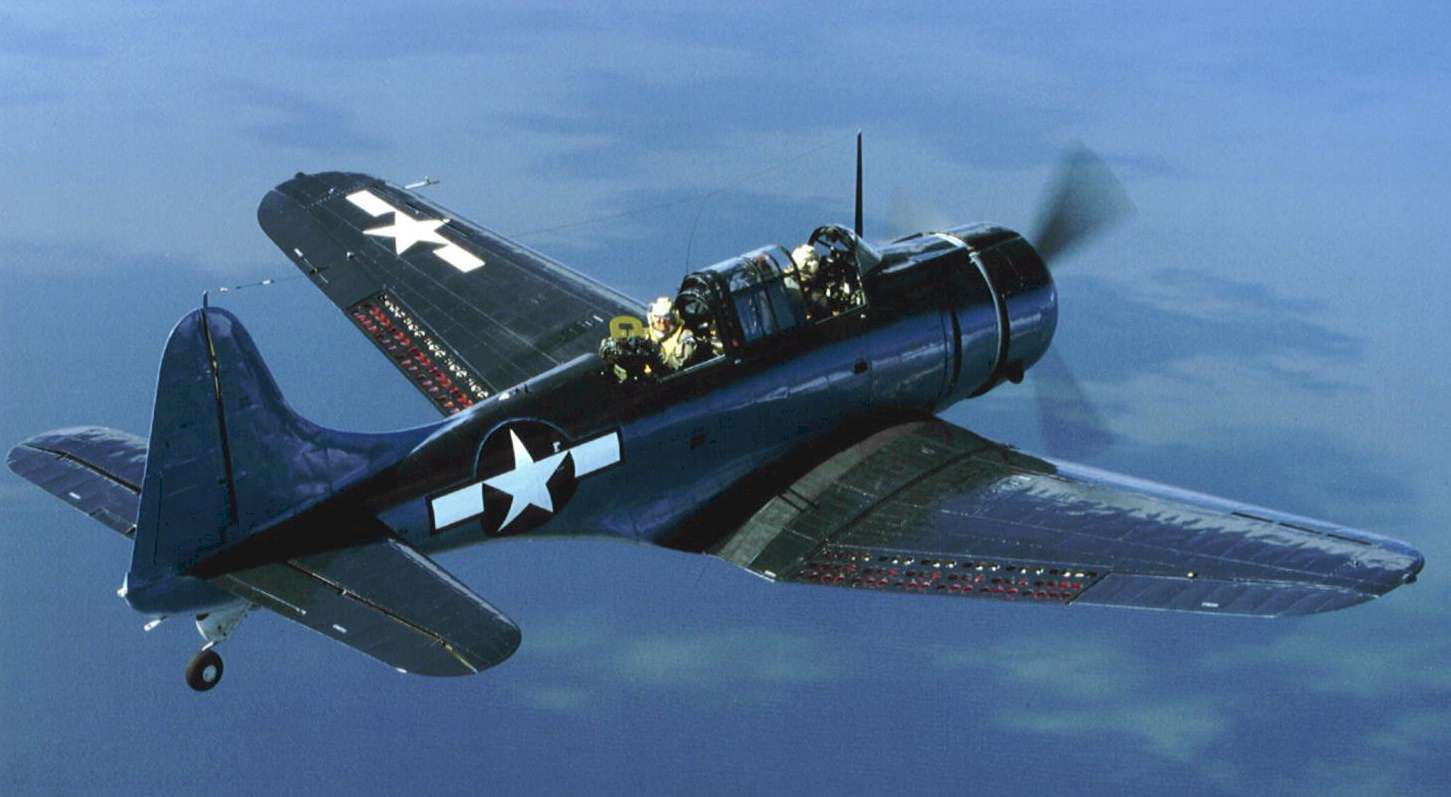 SBD-5 N93RW, owned and operated by the Lone Star Flight Museum, Galveston, Texas, USA, and flown by Tom "Gumby" Gregory. Rear gunner: T.C Jones. Photo courtesy Dave Zavoina.
History: In the spring of 1938, a Northrop dive-bomber designated the BT-1 entered service with the US Navy. Its influence was felt over at the Douglas Company, where a new naval dive-bomber was designed and produced based on the Northrop design. Initially designated the XBT-2, the new design was later called the SBD when Northrop was bought out by the Douglas Company. Production began in 1940, and although the SBD had a general likeness to its Northrop predecessor, it was a completely different airplane. Testing of the prototype (with a 1,000-hp Wright Cyclone engine) revealed an exceptionally capable airplane.
In April 1939, the US Marine Corps and US Navy placed orders for the SBD-1 and SBD-2, respectively, the latter having increased fuel capacity and revised armament. The first SBD-1s entered service with the Marines' VMB-2 Squadron in late 1940, and the first SBD-2s joined the Navy in early 1941. The next variant to appear, the SBD-3, entered service in March 1941, and incorporated self-sealing and larger fuel tanks, armor protection, a bullet-proof windshield, and four machine guns. The SBD-4 followed with an upgraded 24-volt electrical system, and a few of these were converted to SBD-4P reconnaissance platforms.
The next, and most produced, variant was the SBD-5, which was built at Douglas's new Tulsa, Oklahoma plant. It had a 1,200-hp R-1820-60 engine and increased ammunition capacity. Over 2,400 SBD-5s were built, and a few were shipped to the Royal Navy's Fleet Air Arm, under the designation Dauntless DB.Mk I, but these were never used operationally. Mexico also took delivery of a small number of SBD-5s. The SBD-6, the final variant, had an even more powerful engine and greater fuel capacity.
Meanwhile, the US Army, realizing that it did not have a dive bomber equal in capability to Germany's Ju 87 Stuka, ordered the SBD-3 in 1941, under the designation A-24. This aircraft was identical to the Navy airplanes except it did not have an arresting hook, and its tailwheel had an inflated tire instead of a solid rubber one. The A-24 was never found to be of great use during WWII, as its range and performance were inadequate for service in the South Pacific, and the dive-bombing mission was of little use elsewhere. Nevertheless, the A-24 (and later the A-24A, equivalent of the SBD-4; and A-24B, equivalent of the SBD-5) remained in service with the US Army Air Corps for several years after the war.
Nicknames: Barge; Clunk; Speedy-D; Speedy-3; Slow But Deadly; Banshee (A-24).
Specifications (SBD-6):
Engine: One 1,350-hp Wright R-1820-66 Cyclone 9-cylinder radial piston engine
Weight: Empty 6,535 lbs., Max Takeoff 9,519 lbs.
Wing Span: 41ft. 6in.
Length: 33ft. 0in.
Height: 12ft. 11in.
Performance:
Maximum Speed: 255 mph
Cruising Speed: 185 mph
Ceiling: 25,200 ft.
Range: 773 miles
Armament:
Two forward firing 12.7-mm (0.5-inch) machine guns;
Two 7.62-mm (0.3-inch) machine guns on flexible mounts;
Under-fuselage mountings for up to 1,600 pounds of bombs;
Wing hard-points for up to 650 pounds of bombs.
Number Built: 5,936
Number Still Airworthy: 3

[ SBD Pilot Report 1 by J.B. Stokely ]



[ SBD Pilot Report 2 by Dave Hirschman ]
Links:
AeroWeb SBD Reference Page
Aviation History On-Line Museum -- SBD Page
Combat Aircraft of the Pacific War: SBD Dauntless
Dixie Wing of the CAF: SBD-5 Dauntless Page
Joe Baugher's A-24 Dauntless History
Light and Medium Bombers of WWII -- Discussion groups, research information, etc.
Photovault Image Archive: SBD Photos



[Back to Warbird Alley's Main Page]
---
All text and photos Copyright 2016 by The Doublestar Group, unless otherwise noted.
You may use this page for your own, non-commercial reference purposes only.