Northrop T-38 Talon
(Variants/Other Names: AT-38)
---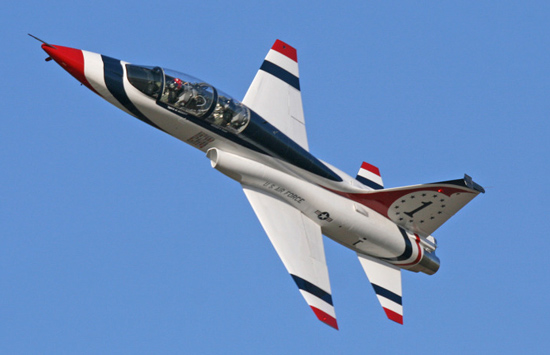 T-38 NX385AF, owned and flown by Ross Perot, Jr.
[Photo source unknown. Contact us if you deserve credit.].
History: In the mid-1950s, Northrop began design-work on a new high-performance, lightweight fighter designated the N-156 (which eventually led to the F-5 family of fighters), and an accompanying supersonic trainer initially called the N-156T. The first of three prototypes, eventually called the YT-38, first flew on 10 April 1959.
After testing two different engine installations, an initial contract for the T-38A was signed with the US Air Force, and the first Talon entered service at Randolph AFB, Texas, on 17 March 1961. Production ended in early 1972 after 1,187 had been built, and the type is still in service as the US Air Force's advanced training aircraft for student pilots selected to fly fighters.
In addition, the Talon is used by NASA as a chase aircraft, and has served as a trainer in Singapore, Taiwan, Germany, and Portugal. The US Navy also operates at least three Talons at its Patuxent River NAS Test Pilot's School, and the Boeing Company flies a small handful as chase aircraft. A major variant of the aircraft is the AT-38B, which has a gunsight and a centerline pylon which can be fitted with a gun pod or practice-bombs or rockets.
The latest, upgraded version of the aircraft is the T-38C Talon II, which entered operational service in 2003. To create the new model, older airframes were (among other things) retrofitted with new, electronic instrumentation.
Several civilian-owned T-38s have appeared in the USA in the past decade, and at least two are used extensively in the flight-test role.
Nicknames: The White Rocket; Blue Jet (AT-38); Smurf (AT-38)
Specifications (T-38A):
Engines: Two 3,850-pound thrust General Electric J-85-GE-5A afterburning turbojets
Weight: Empty 7,165 lbs., Max Takeoff 12,093 lbs.
Wingspan: 25ft. 3in.
Length: 46ft. 4.5in.
Height: 12ft. 10.5in.
Performance:
Maximum Speed at 36,000ft: Mach 1.3 (858 mph)
Cruising Speed at 39,000ft: Mach 0.9
Ceiling: 53,500 ft.
Range: 1,090 miles
Number Built: 1,187
Number Still Airworthy: ~700 active Military/Government worldwide; Approximately 4 are privately owned as warbirds.

[ T-38 Pilot Report by Buck Wyndham ]
Cockpit Photo:



(Click for Larger)
Links:
Aerovision LLC -- CF-5B sales
AeroWeb T-38 Page
Federation of American Scientists -- T-38 Data
Canadian DDSAL CF-5 Disposal
Go Thunderbirds -- Marketing T-38 aircraft.
T-38 Poop (Study Materials for SUPT students)
Thornton Aircraft Company -- T-38 and F-5 sales and training
USAF Air University T-38 Fact Sheet
USAF T-38 Fact Sheet
USAF Museum T-38



[Back to Warbird Alley's Main Page]
---
All text and photos Copyright 2016 The Doublestar Group, unless otherwise noted.
You may use this page for your own, non-commercial reference purposes only.
---