Max Holste M.H.1521 Broussard
(Variants/Other Names: None)
---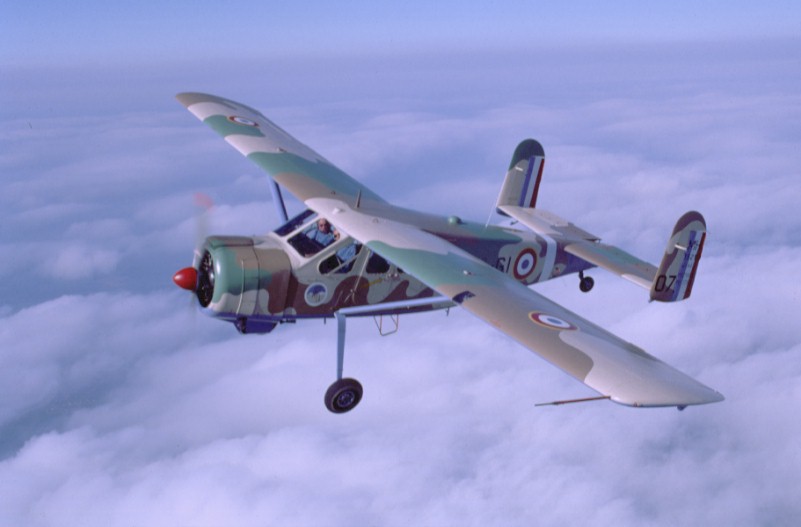 Broussard G-BKPT, formerly owned and operated by Dave Sutton, New Jersey, USA.
(Photo contributed by Dave Sutton.)
History: The Max Holste 1521 was developed from the earlier M.H.152, a 1949 design that the French Army asked for but later abandoned. The M.H. 1521 Broussard was a larger version of the M.H.152, carrying five passengers instead of four. It also had a larger Pratt & Whitney Wasp engine, with double the power of the original. The Max Holste company had hoped to market this aircraft for ambulance service and photographic work, but eight days after the initial civilian order the French Army was asking for its own planes. In military service it was designated the M.H.1521M.
Used as a light utility and aerial artillery observation post, the Max Holste company continued to produce the Broussard until 1959. The Broussard, meaning "Bushman," was a strong aircraft with excellent Short Take-Off and Landing (STOL) characteristics. It was supplied to many former French colonies in Africa, and was not retired from French service until the early 1980s.
A total of 363 Broussards were completed by Max Holste between 1954 and 1959. Some M.H.1521Ms still fly in European aero clubs in France, and there are a few in the United States and Great Britain.
Nicknames: Unknown
Specifications:
Engine: One 450-hp Pratt & Whitney R-985-AN-1 Wasp radial piston engine
Weight: Empty 3,373 lbs., Max Takeoff 5,953 lbs.
Wing Span: 45ft. 1.25in.
Length: 28ft. 4.5in.
Height: 9ft. 2in.
Performance:
Cruise Speed: 120 mph
Maximum Speed: 168 mph
Ceiling: 14,500 ft.
Range: 745 miles
Armament: One light machine gun; one grenade-dropping launcher; four underwing stores positions.
Number Built: 363
Number Still Airworthy: Approximately 25

[ Pilot Report by Raymond Delaunay ]
Links:
Aardvark Aviation: Broussard F-BXCS photo
Compass Light Aircraft Gallery: Broussard photos
Detailed 3-View Drawing
Utility-Aircraft.com Site: Broussard Page
Virtual Aviation Museum: MH 1521M Broussard

Book Recommendation:
Broussard MH 1521
By Thierry Gibaud
(in French)


[Back to Warbird Alley's Main Page]
---
All text and photos Copyright 2016 The Doublestar Group, unless otherwise noted.
You may use this page for your own, non-commercial reference purposes only.
---