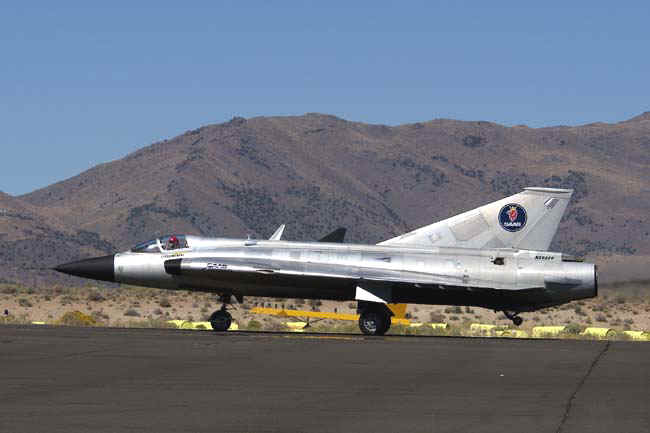 A J35 Draken sponsored by a Saab auto dealer in Sacramento, California taxies
for takeoff at Reno, Nevada, USA, in September, 2003.
Photo by C.F. Smith
History: In 1949, Saab designers began work on a new supersonic, all-weather, single-seat fighter for the Swedish air force. Designer Erik Bratt came up with a unique double delta shape that offered an aerodynamic package along with structural stability. The double delta shape means that the wing is comprised of two different wing sections with different sweep angles. The inner wing, with an 80-degree angle, is optimized for high-speed performance, while the outer wing, with a 60-degree angle, is optimized for low-speed performance. The design also featured fully-powered controls, a combination of external and integral fuel tanks, and retractable tricycle landing gear that was complemented by two retractable tail wheels. This feature allowed a tail-down landing, which made good use of the aerodynamic braking effect of the wing. The Draken is capable of short takeoffs and landings, which meant that it could be stationed at small airfields.
The first Saab-35 prototype featured a Rolls-Royce Avon turbojet engine. It was flown on 25 October 1955, and the J 35A Draken ("dragon") began entry into the service in March 1960. The series-built aircraft used Volvo Flygmotor RM6B turbojets, which were license-built versions of the Rolls-Royce engine. Saab exported the plane to Denmark, Finland and Austria, where they were used as trainers, fighters and tactical reconnaissance planes. Finland also manufactured the Draken for a short time: twelve planes were built at the Valmet factory. The plane also was offered unsuccessfully to the Swiss air force, and Venezuela and Singapore were reportedly interested in purchasing the Draken, although no sales were made to these countries.
Major production variants included the J 35A, the first production version; the Sk35C, a two-seat operational trainer without combat capability; the J 35D, an improved production version with a more powerful engine, advanced avionics and a zero-zero ejection seat; the S 35E, a tactical reconnaissance version with five cameras in the nose and cameras in one or both cannon bays; and the J 35F, the final production version with more advanced avionics and equipped to carry Hughes Falcon missiles instead of Sidewinders.
Although Sweden has replaced the Draken with the Saab 37 Viggen, the plane remained in active service for almost 40 years after its introduction, and it is still being used as a military aircraft in Austria. Production ceased in 1974. The Draken, Europe's first supersonic combat aircraft, now is used as a high-speed test aircraft for NASA and other U.S. governmental agencies. At least one has been flown as a privately-owned warbird, and was often seen on an American TV advertisement for Miller beer.
Nicknames: Dragon
Specifications (J 35F):
Engine: One 17,262-pound thrust afterburning Flygmotor RM6C turbojet (license-built Rolls-Royce Avon 300)
Weight: Empty 16,369 lbs., Max Takeoff 27,998 lbs.
Wing Span: 30ft. 10in.
Length: 50ft. 4.5in.
Height: 12ft. 9in.
Performance:
Maximum Speed at 36,000 ft: 1,320 mph (Mach 2)
Ceiling: 65,615 ft.
Range: ~750 miles
Armament:
One 30-mm Aden M/55 cannon in starboard wing
Two RB 27 missiles
Two RB 28 Missiles
Up to 2,205 pounds of bombs or 12 135-mm (5.3-inch) Bofors rockets
Number Built: 606
Number Still Airworthy: Active Military: Unknown. Civilian Operated: At least 5.
Links:
AeroGroup, Inc., Jacksonville, Florida, USA -- Draken available for contract training, testing and movie work.
Desert Drakens at Inyokern, California
Draken Page
Draken Photos at "Austrian Fighter Selection" SIte (in German)
Draken Team Karup
Flight Research, Inc. Draken Page
Saab 35 Draken History Page


[Back to Warbird Alley's Main Page]
---
All text and photos Copyright 2016 The Doublestar Group, unless otherwise noted.
You may use this page for your own, non-commercial reference purposes only.
---