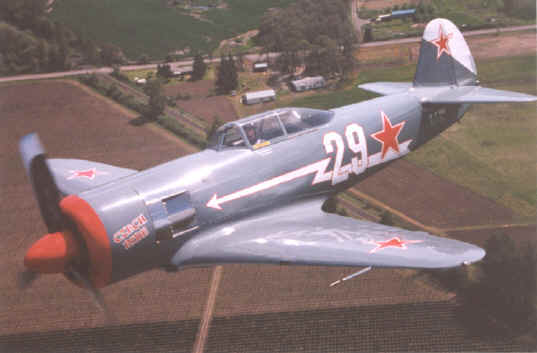 This Yak-11, "Czech Ride," N11MQ, was modified for air racing. At the time of this photo, it was owned and flown by Sam Richardson. Photo by Jack Cook.
History: Shortly after the end of World War II, an American clergyman who had lived in Moscow during that period described the air war thus, "The Nazis would fly over the city dropping leaflets goading the Russians to send up something worth fighting."
No doubt that was either in 1942 or early 1943, because 1943 was the year that the Soviet Air Force answered the challenge with a vengeance, fielding aircraft from several designers that could go head-to-head with the best that the Luftwaffe had available. Among these, was the Yakovlev Yak-3, an aircraft that would become the most-produced Soviet fighter of the war.
A light, responsive, single-seat interceptor, bomber escort and close-support aircraft that was especially deadly to Luftwaffe aircraft at altitudes below 11,000 feet, the Yak-3's success in combat led to the conversion of a Yak-3U to two-seat trainer prototype, the Yak-3UTI in 1945. That "cut-and-paste" redesign was followed 12 months later by the first flight of a new, air-cooled, two-seat advanced trainer/liaison aircraft/utility transport, the Yak-11, which used many Yak-3 parts, modified as needed for the aircraft's new functions.
Nicknamed "Moose," by NATO and "Hawk" by Warsaw Pact nations, the Yak-11 was, in its trainer form, significantly less nimble than its fighter predecessor, except for demonstrating exceptional agility in rolls.
Sometimes equated with the North American T-6 trainer in terms of its widespread use, 3,859 basic Yak-11s were produced through 1956. Although production then ceased in Russia, it continued in Czechoslovakia, where it had been licensed to LET in 1953 with the designation C.11. An additional 707 of those aircraft were manufactured by LET. Many of the Yak-11's still operational in the USSR were replaced in 1958 by the Yak-11U, a tricycle-geared variation of the aircraft intended for training jet fighter pilots. Yak-11/C.11's were used not only by Warsaw Pact nations, but also by various other communist countries around the world.
While it is no longer a front-line aircraft, the Yak-11 has gained a new lease on life as a popular "warbird" thanks to its World War II Yak-3 lineage. Modified (in several instances as high-performance single-seat racers), and equipped in some cases with Pratt and Whitney engines, Yak-11s may currently be found in civilian use from Reno, Nevada to Western Australia, with specific airframes known to be in service in Belgium, the United Kingdom, France, Sweden and the Czech Republic.
Nicknames: Hawk (Warsaw Pact name); Moose (NATO codename).
Specifications:
Engine: One 570-hp Shvetsov ASh-21 radial piston engine
Weight: Empty 4,189 lbs., Max Takeoff 5,379 lbs.
Wing Span: 30ft. 10in.
Length: 27ft. 10.5in.
Performance:
Maximum Speed: 289 mph
Ceiling: 23,295 ft.
Range: 795 miles
Armament: One 12.7-mm (0.5-inch) UBS or 7.7-mm (0.303-inch) ShKAS machine gun.
Number Built: 3,859, plus 707 Czech-built C.11s.
Number Still Airworthy: 50+, most in eastern Europe.
Links:
Yak UK
Yakovlev Yak-11
Wall Decal
from Amazon.com:


[Back to Warbird Alley's Main Page]
---
All text and photos Copyright 2016 The Doublestar Group, unless otherwise noted.
You may use this page for your own, non-commercial reference purposes only.
---