North American F-100 Super Sabre
(Variants/Other Names: See History below)
---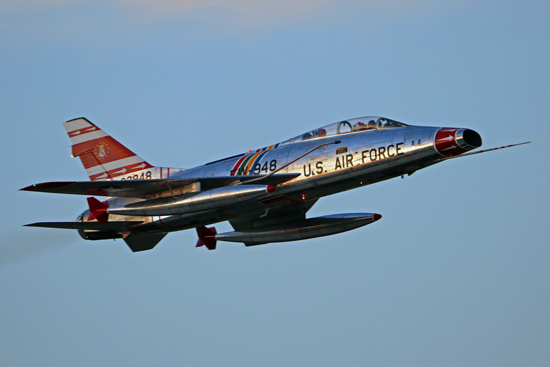 1958 F-100F N2011V (Serial No. 56-3948) owned and operated by
Dean "Cutter" Cutshall of Ft. Wayne, Indiana, USA. Photo by Buck Wyndham.
History: In 1949, North American began development of the world's first aircraft capable of breaking the sound barrier in level flight, the F-100A Super Sabre. A familial successor to the F-86 Sabre, the new design was larger, faster and more powerful than its predecessor.
On November 1, 1951, North American's design work resulted in a U.S. Air Force contract for two YF-100 prototypes and 110 F-100A Super Sabre interceptors. The first of two prototypes made a major leap ahead in combat aircraft development when it exceeded Mach 1 during its maiden flight on May 25, 1953. Powered by the Pratt & Whitney J57-P-7 engine, the early Super Sabres could produce 15,000 lbs. of afterburning thrust at a maximum speed of 864 mph. The last 36 aircraft were built with a J57-P-39 engine capable of producing 1,000 pounds more thrust.
On October 29, 1953 the first prototype aircraft made its mark in history by establishing a new world speed record of 754.99 mph. During the same month, the first production aircraft was flown. Flight-testing continued until early 1954 when the US Air Force's 479th Fighter Day Wing took delivery of the new Super Sabre, declaring it operational.
Despite a successful flight test program, a series of crashes in that same year led to the grounding of the F-100A in late 1954. The accidents were found to be the result of inertia roll-yaw coupling making the aircraft unstable in certain flight profiles. North American corrected the design flaw by lengthening the vertical stabilizer and extending the wings, which increased the aircraft's stability and put it back in service.
North American continued development with an improved version of the F-100A, the F-100C fighter-bomber, whose added capability to refuel inflight appealed to the Air Force. Additionally, the F-100C was equipped with eight underwing weapon pylons and was powered by Pratt & Whitney's J57-P-21 engine. A total of 476 of these models were built. However, in an attempt to keep up with the needs of the Air Force, North American developed the F-100D attack version. The F-100D Super Sabre featured many additional capabilities needed by the USAF, including a flapped wing, provisions for internal Electronic Counter-Measures (ECM) equipment and introduction of a Low-Altitude Bombing System (LABS). 1,274 D-Models were built.
The final production version of the Super Sabre was the F-100F, a two seat (tandem) trainer, of which 339 were built. The 'C' and 'D' versions flew as fighter-bombers and anti-SAM missile platforms proving them as reliable, mission-effective aircraft during the Vietnam War. F-100s also served with the French, Turkish, Danish and Taiwanese Air Forces.
The last Super Sabres were retired from the Air National Guard and the USAF's Aerial Target program in the late 1980s. As the airplane which created a "supersonic Air Force," the F-100 Super Sabre has left an indelible mark in the history of military aviation and on those that flew this sleek fighter.
Nicknames: Hun; Slick Chick (RF-100A reconnaissance version).
Specifications (F-100D):
Engine: One 17,000-pound thrust Pratt & Whitney J57-P-21A afterburning turbojet.
Weight: Empty 21,000 lbs., Max Takeoff 34,832 lbs.
Wing Span: 38ft. 9.5in.
Length: 47ft. 1.25in. (excluding pitot tube)
Height: 16ft. 3in.
Performance:
Maximum Speed at 35,000 ft: 864 mph (Mach 1.3)
Ceiling: 46,000 ft.
Range: 600 miles
Armament:
Four 20-mm cannon
Up to 7,500 pounds of bombs, missiles and rockets on underwing pylons.
Number Built: 2,294
Number Still Airworthy: At least two in private ownership.
Links:
F-100.org -- Histories, detailed photos and information for modelers.
F-100 Photos at Airport-Data.com
Federation of American Scientists: F-100 Page
Friends of the Super Sabre -- Dedicated to preserving the legacy of the F-100
Joe Baugher's F-100 History Pages -- Very extensive history!
March Field Air Museum F-100
North American company history: F-100 Super Sabre
Super Sabre Database Project
Super Sabre Society




[Back to Warbird Alley's Main Page]
---
All text and photos Copyright 2016 The Doublestar Group, unless otherwise noted.
You may use this page for your own, non-commercial reference purposes only.
---