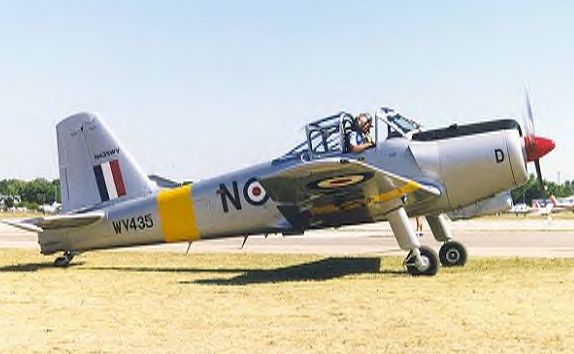 (Photo source unknown. Please contact us if you deserve credit.)
History: At the end of the 1940s, convinced that the existing training sequence of Percival Prentice to Harvard was providing inadequate preparation to their jet pilot trainees to ready them for frontline flying duty, the British Air Ministry issued Operational Requirement 257, defining the need for a new, higher performance, piston-engine trainer. While speed was not a prime concern of O.R.257, a cruising speed of 110 knots was required, along with an endurance of at least two hours flying time. Of the 15 companies involved in the fierce competition for design approval, Percival led the pack because it had privately developed a mockup trainer that anticipated many of the RAF's requirements. Called the P.56, the Percival entry also had the edge because their early start made them the only firm able to meet the time limits specified by the RAF for delivery of a prototype. Thus, an initial order for 200 of the aircraft was placed with Percival in May, 1951.

The Provost was a two-seat, side-by-side low-wing monoplane with fixed landing gear of the tailwheel variety, powered by a 550hp Alvis Leonides 126 radial engine.

In 1953, the first production P.56s joined the Central Flying School's Basic Training Squadron at South Cerney as the RAF's standard basic trainer, called the Provost T.Mk.1. More than 330 of the aircraft were eventually delivered to the RAF over a period of 3 years, during which time (1954) Percival became part of the Hunting Group. The Provost remained in service until they were replaced by a major revision of the design that evolved the P.56 Provost into the Jet Provost trainer, which eventually evolved into the BAC Strikemaster multi-role trainer and light attack aircraft in 1967. A total of 461 Provosts were built by the time production ended in 1959.
Nicknames: Unknown
Specifications:
Engine: One 550-hp Alvis Leonides 126 radial piston engine
Weight: Empty 3,350 lbs., Max Takeoff 4,400 lbs.
Wing Span: 35ft. 2in.
Length: 28ft. 8in.
Height: 12ft. 2.5in.
Performance:
Maximum Speed: 200 mph
Ceiling: 22,500 ft.
Range: 648 miles
Armament: None
Number Built: 461
Number Still Airworthy: Approximately 5
Links:
RAF Museum Percival Provost T.1
Swept Wings Site: Hunting Percival Provost Gallery
Virtual Aviation Museum Provost Page


[Back to Warbird Alley's Main Page]
---
All text and photos Copyright 2016 The Doublestar Group, unless otherwise noted.
You may use this page for your own, non-commercial reference purposes only.