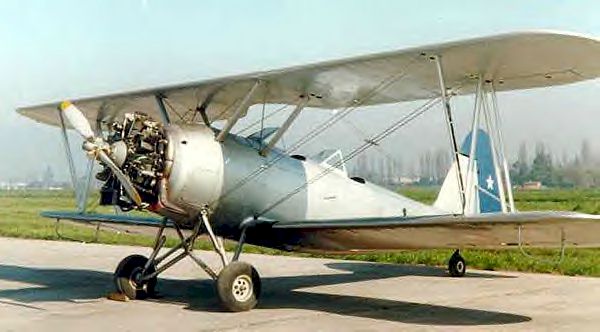 (N3N at El Bosque, Chile, in 1981. Photo by Germán Lüer.
Photo from the Unofficial Page of Chile's Air Force.)
History: The N3N was the last biplane to see service with the United States. Built by the Naval Air Factory, a Navy-run manufacturing complex, it was produced to replace the Consolidated NY-2s and -3s operated in the 1920s. The N3N would be the last mass-produced aircraft built by the Naval Air Factory.

The N3N was an equal span, metal and fabric biplane. One version was built with wheels and another as a floatplane with center float and wing mounted stabilizing floats. The prototype, the NAF XNN-1 was flown in August of 1935. The success of the tests resulted in 179 N3N-1s being built. The first 158 being powered by a 220-hp Wright engine held in storage by the US Navy. An improved, US Navy-built Wright engine of 240-hp resulted in the creation of the XN3N-2 and XN3N-3 prototypes. The N3N-3 had a new tail and landing gear.
The Navy produced 816 N3N-3s. After 1938, N3N-1s were gradually upgraded with the new engines. Four N3Ns were transferred to the Coast Guard in 1941, and the rest served as primary trainers for the US Navy during World War II.

The US Naval Academy kept some N3N floatplanes after the war, but the rest were sold as surplus. Both the N3N-1 and N3N-3 can still be seen flying in the United States in the hands of avid warbird collectors.
Nicknames: Yellow Peril
Specifications (N3N-3):
Engine: One 235-hp Wright R-760-2 Whirlwind 7-cylinder radial piston engine
Weight: Empty 2,090 lbs., Max Takeoff 2,792 lbs.
Wing Span: 34ft. 0in.
Length: 25ft. 6in.
Height: 10ft. 10in.
Performance:
Maximum Speed: 126 mph
Ceiling: 15,200 ft.
Range: 470 miles
Armament: None
Number Built: 995
Number Still Airworthy: ~20
Cockpit Photo:



(Click for larger)
Links:
AeroWeb N3N-3 Reference Page
CAF West Houston Squadron, Texas, USA -- Operators of an N3N.
N3Ns in Old Oklahoma -- "Stories from an old Okie"
Navy N3N Parts and Restoration -- Bill Hirzel, Toldeo, Ohio, USA.


[Back to Warbird Alley's Main Page]
---
All text and photos Copyright 2016 The Doublestar Group, unless otherwise noted.
You may use this page for your own, non-commercial reference purposes only.
---