Boeing B-29 Superfortress
(Variants/Other Names: See History below)
---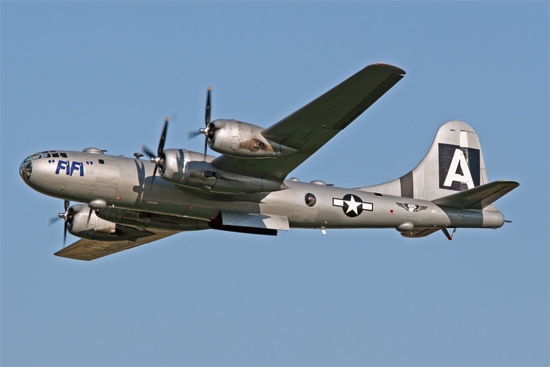 "Fifi," the world's only flying Boeing B-29 Superfortress, in her element.
Photo by Buck Wyndham
History: The B-29's predecessors, the XB-15 and the B-17 "Flying Fortress" were, in a sense, the failed products of United States Army Air Corps (USAAC) mid-1930's "Project A," which was intended to give the U.S. a heavy bomber capable of flying 5,000 miles. Ironically, the B-29's origins lay in both the strengths and weaknesses of those predecessors, especially the B-17, which demonstrated impressive strength, firepower, speed, bomb load, range and altitude capability -- all of which were still inadequate for that original 1930's design request. Based on Charles Lindbergh's assessment of the potency of the Luftwaffe, American strategists in 1939 acknowledged that the United States would have to fight Nazi Germany from American soil should Germany invade England, which then seemed highly probable. As a consequence, the USAAC initiated a request for proposals pertaining to a new very-heavy, very-long-range bomber to replace the B-17. Four prospective manufacturers, Boeing, Consolidated-Vultee, Douglas and Lockheed were given individual experimental aircraft numbers (XB-29, XB-30, XB-31 and XB-32). Of the four, only Boeing (XB-29) and Consolidated (XB-32) developed flying prototypes, and Boeing emerged the clear winner of the pair, even though its entry flew after the first XB-32 had flown.

From the beginning, the B-29 was a fountain of firsts, anticipating the methodologies and successes of the later NASA Lunar and Space Shuttle programs. Before the first prototype had been constructed, manufacturing facilities had already been established, a risky process that had not been the norm in the aircraft industry. And that bomber, the heaviest production aircraft built up to that time, would be the first to have pressurized crew compartments, centralized and computerized fire control, the capacity to carry up to a 20,000 pound bomb load, or the ability to fly 5,830 miles, with a top airspeed of 365 miles per hour. Paradoxically, although the B-29 was designed to be a high-altitude weapons platform, its greatest WW II successes were accomplished at low-altitude, in the fire-bombing of Japan. Low-flying B-29's laid waste to most militarily important cities in Japan except Hiroshima, Nagasaki, Niigata and Kokura, which had been declared -- for reasons unclear to the active bomb groups -- off-limits to their bombing.

Eventually, the B-29 became the first combat aircraft to carry and drop atomic bombs, first on Hiroshima (by "Enola Gay" commanded by Capt. Robert Lewis and Col. Paul Tibbetts), then Nagasaki (by "Bockscar," commanded by Maj. Charles Sweeny), becoming the first and only aircraft to effectively end a world war. B-29's had one more war in their future before the type was finally retired from combat service in 1960 by a jet-propelled Air Force. During the Korean War, they flew more than 20,000 sorties in which they dropped nearly 200,000 tons of bombs on North Korean targets.
Major variants included: B-29A (Increased-span versions built by Boeing); B-29B (Bell-built version with automatic, radar-guided tail guns); RB-29 (Photo-reconnaissance variant); KB-29M / KB-29P (Inflight refueling tankers); and P2B-1S / P2B-2S (US navy anti-submarine testbeds).
Of the 3,970 B-29's built, one aircraft still flies as a living memorial and educational component of the Commemorative Air Force, flying in its illustrious "Ghost Squadron" of World War II aircraft.
Nicknames: Washington (RAF name for B-29s loaned to the UK between 1950-1958); Bull (NATO code name for Russian TU-4, a near-exact copy of the B-29).
Specifications:
Engines: Four 2,200-hp Wright R-3350-23-23A/-41 Cyclone 18 turbocharged radial piston engines.
Weight: Empty 70,140 lbs., Max Takeoff 124,000 lbs.
Wing Span: 141ft. 3in.
Length: 99ft. 0in.
Height: 29ft. 7in.
Performance:
Maximum Speed: 358 mph
Cruising Speed: 230 mph
Ceiling: 31,850 ft.
Range: 3,250 miles
Armament:
Two 12.7-mm (0.5-inch) machine guns in each of remote-controlled turrets, plus three 12.7-mm (0.5-inch) machine guns, or two 12.7-mm guns and one 20-mm cannon in the tail turret.
Number Built: 3,970
Number Still Airworthy: One

[ B-29 Pilot Report by John Deakin ]
Links:
B-29.org -- A collection of miscellanea about the B-29 and its crews.
B-29 "Doc" Restoration | "Saved From a Desert Death" article
B29KeeBird.net -- A site commemorating the last flight of the B-29 called "KeeBird."
B-29s Over Korea -- A site commemorating the B-29 in Korea and the men who flew and maintained them.
Commemorative Air Force B-29 ("Fifi") -- The only airworthy B-29.
The "Enola Gay" -- The history of the most famous B-29 of all.
The "Lady in the Lake" (KB-29 in a lake at Eielson AFB, Alaska)
March AFB B-29A "Mission Inn"
"Requiem for an Aircraft, Farewell to a Pilot"

B-29 Superfortress books from Amazon.com:


[ Click for more books and videos about the B-29! ]


[Back to Warbird Alley's Main Page]
---
All text and photos Copyright 2016 The Doublestar Group, unless otherwise noted.
You may use this page for your own, non-commercial reference purposes only.
---