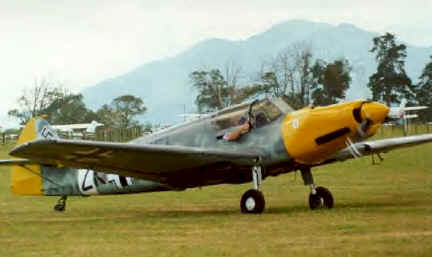 (Photo courtesy Phillip Treweek, Kiwi Aircraft Images)
History: The Treaty of Versailles eliminated military aviation in Germany. To counteract that treaty, Germany found clever ways to prepare a resurgent air force, via such mechanisms as supporting extensive glider training and engaging in civil air transport development, which was permitted after 1922, as well as by establishing a clandestine base at Lipetsk, in the Soviet Union, that enabled the Germans to test new military designs and train a nucleus of highly skilled flyers while providing training for the Soviet Air Force.

While that hidden effort proceeded apace, the German government carefully gathered together the many strands of entrepreneurial airline formation into one, tightly controlled and focused entity, Deutsche Luft Hansa Aktiengesellschaft (German Air Union Incorporated) Luft Hansa.
Despite Allied efforts to totally eradicate German aircraft manufacture, the then illegal development of civilian transports was encouraged by no less than General Billy Mitchell, who induced Professor Junkers to continue building his newly designed F.13 transport, which had first flown three days before the signing of the Versailles Treaty, ordering the first 6 for the United States.

Similarly, unnamed American and Japanese interests approached Ernst Heinkel in 1920 for one of his designs for an aircraft that could be carried on a submarine. Heinkel began secretly building that aircraft in a plant at Travemunde, in complete violation of the treaty.

Once Germany was permitted, after 1922, to resume the manufacture of commercial aircraft, a door opened, through which an army of gifted aircraft designers rushed, creating aircraft that could, almost with the push of a button, convert from civilian/commercial use to military. One of the bright examples of that process was the Messerschmitt Bf 108 design, a record-breaking sports aircraft which would be used as the basis of the premiere German fighter plane of World War II, the Bf 109.

Messerschmitt refined its design for the M 35 2-seat aerobatic plane into the M 37 (later re-designated the Bf 108) specifically for competition in the 4th Challenge de Tourisme Internationale of 1934. The M 37 prototype flew first in spring of 1934. Still a two-seat aircraft, it was powered by a 250hp Hirth HM 8U inverted-V piston engine, which drove a 3-blade propeller.
Although it did not win the competition, which favored lighter aircraft, the M 37's performance made it a popular choice for record flights. Soon after the first production aircraft began to roll off the assembly line in Augsburg, several Bf 108s had set new endurance records, one of which led to its "christening." German aviatrix Elly Beinhorn flew a Bf 108A, named "Taifun" (typhoon) from Berlin to Constantinople in one day, an accomplishment that led Messerschmitt to apply the name "Taifun" to all subsequent production models of the Bf 108.

The 2-seat aircraft was impressive enough to promote the design's evolution into a four-seat touring aircraft that was also well-suited for military communication, liaison and ambulance roles. Other changes incorporated in the Bf 108B included the replacement of a tailskid with a tailwheel, and a different powerplant, the 240 hp Argus As 8C inverted-V piston engine, which drove a 2-blade propeller. Most of the 885 Bf 108 aircraft manufactured were of this version, which was built first by Messerschmitt and later by Societe Nationale de Constructions Aeronautiques du Nord, in France, during and after the war.

There was one Bf 108C, a conversion from the standard Bf 108 that used, instead, a 400hp Hirth HM 512 inverted-V piston engine. There was also a Me 208 variation, which modified the Bf 108 design into a tricycle gear aircraft. The first two Me 208s were built by Nord during WWII. After the war, Nord built the Bf 108 as the Nord N.1000 "Pingouin" (penguin) and the Me 208 as the Nordalpha and Ramier ("Woodpigeon") series, based on the Renault 6Q or Potez 6 piston engines. A record breaker when it was introduced 66 years ago, the Bf 108's performance is still impressive by contemporary personal sports-plane standards.
Nicknames: Aldon (Bf 108s captured by England's Royal Air Force during WWII.)
Specifications (Bf 108B):
Engine: One 240 to 270-hp Argus As 10c inverted-V piston engine
Weight: Empty 1,940 lbs., Max Takeoff 3,053 lbs.
Wing Span: 34ft. 5.5in.
Length: 27ft. 2.75in.
Height: 7ft. 6.5in.
Performance:
Maximum Speed: 186 mph
Ceiling: 16,405 ft
Range: 620 miles
Armament: None
Number Built: 885
Number Still Airworthy: At least three.

[ Bf-108 Pilot Report by Budd Davisson ]
Links:
Canadian Aces Bf 108 Page




[Back to Warbird Alley's Main Page]
---
All text and photos Copyright 2016 The Doublestar Group, unless otherwise noted.
You may use this page for your own, non-commercial reference purposes only.
---