Boeing / Stearman PT-17 "Kaydet"
(Variants/Other Names: Model 75; NS-1; N2S; PT-13; PT-18; PT-27)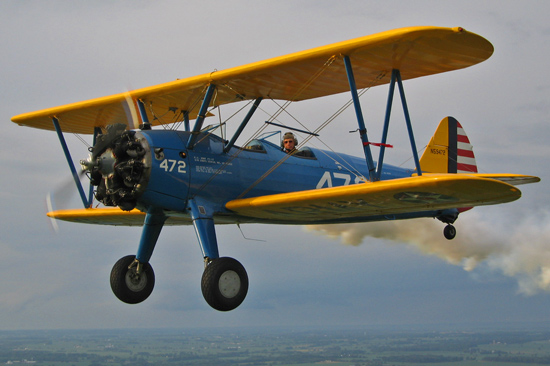 Wally Falardeau tucks his Boeing PT-17 Stearman in close to the camera over northern Illinois on a cloudy summer day in July 2005. Photo by Buck Wyndham.


History: Even though the US Army Air Corps needed a new biplane trainer in the mid-1930's, it moved slowly to acquire one because of the service-wide lack of funding for new airplane purchases. In 1936, following the Navy's lead the previous year, the Army tentatively bought 26 airframes from Boeing (the Model 75), which the Army named the PT-13. With war on the horizon, this trickle of acquisition soon turned into a torrent; 3519 were delivered in 1940 alone.

Built as a private venture by the Stearman Aircraft Company of Wichita (bought by Boeing in 1934), this two-seat biplane was of mixed construction. The wings were of wood with fabric covering while the fuselage had a tough, welded steel framework, also fabric covered. Either a Lycoming R-680 (PT-13) or Continental R-670 (PT-17) engine powered most models, at a top speed of 124 mph with a 505-mile range. An engine shortage in 1940-41 led to the installation of 225-hp Jacobs R-755 engines on some 150 airframes, and the new designation PT-18.

The US Navy's early aircraft, designated NS-1, eventually evolved into the N2S series, and the Royal Canadian Air Force called their Lend-Lease aircraft PT-27s. (The Canadians were also responsible for the moniker "Kaydet," a name eventually adopted by air forces around the globe).

The plane was easy to fly, and relatively forgiving of new pilots. It gained a reputation as a rugged airplane and a good teacher. Officially named the Boeing Model 75, the plane was (and still is) persistently known as the "Stearman" by many who flew them. It was called the "PT" by the Army, "N2S" by the Navy and "Kaydet" by Canadian forces. By whatever name, more than 10,000 were built by the end of 1945 and at least 1,000 are still flying today worldwide.

Nicknames: Yellow Peril. (Some Stearman owners claim this name resulted specifically from the Stearman's allegedly challenging ground-handling characteristics, but most WWII veterans contend that the nickname was more of a generic reference to the dangerous nature of primary flight training, an endeavor in which the Stearman obviously played a major role. Other aircraft such as the N3N also carried the Yellow Peril nickname.)

Specifications (PT-17):
Engine: One 220-horsepower Continental R-670-5 piston radial engine (PT-17)
Weight: Empty 1,936 lbs., Max Takeoff 2,717 lbs.
Wing Span: 32ft. 2in.
Length: 24ft. 3in.
Height: 9ft. 2in.
Performance:
Maximum Speed: 124 mph
Ceiling: 11,200 ft.
Range: 505 miles
Armament: None

Number Built: 10,000+

Number Still Airworthy: 1000+

[ Stearman Pilot Report by Budd Davisson ]
Links:
3G Classic Aviation -- Stearman restorations and maintenance in Austria.
450 Stearman Resources -- A website full of information about the 450-hp version of the Stearman.
Air Repair, Inc., Cleveland, Mississippi, USA -- Stearman and engine parts and restorations.
The Airshow -- Lots of interesting Stearman-related information.
Big Sky Stearman -- Wood wing kits for Stearmans, and other services.
Biplane Expo, Bartlesville, Oklahoma, USA
Kansas Instrument -- Overhaul shop for Stearman instruments.
National Biplane Association, Tulsa, Oklahoma, USA
National Stearman Fly-In, Galesburg, Illinois, USA
Northwest International Biplane Fly-In, Spokane, Washington, USA
Sky Services: Redline Brake Info
Stearman Flight -- Formation flight training organization for Stearmans.
Stearman Restorer's Association (SRA) -- The premiere organization for Stearman restorers, owners and operators.
StearmanWings.com -- Blueprints, and technical information for "Stearman people."
Stearman World Flight -- Robert Ragozzino's around the-world Stearman flight in 2000.
Vintage Aeroplane Company, Inc. (Europe) -- Stearman repair and restoration. Also has rejuvenated Stearmans for sale.


[ Click for more great books about Stearmans! ]

Back to Warbird Alley's Main Page ]
---
All text and photos Copyright 2016 The Doublestar Group, unless otherwise noted.
You may use this page for your own, non-commercial reference purposes only.
---