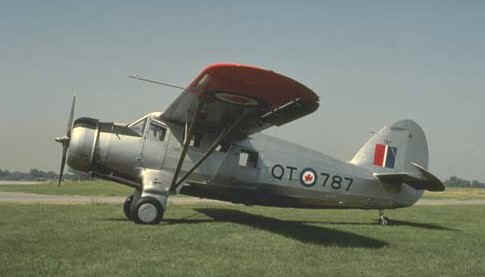 (Photo source unknown. Please contact us if you deserve credit.)
History: In the mid 1930s, Noorduyn Aviation Ltd. of Canada began design work on a rugged transport aircraft which would be suitable for anything the severe Canadian environment could throw at it. It needed to have the capability to be fitted with floats, skis, or wheels; carry large, bulky loads; have excellent rough and short-field capabilities; be reliable and easy to service; and be a true "bush" airplane in every respect. The prototype Norseman I first flew on 14 November 1935, powered by a 420-hp Wright R-975 engine.
The first production model, designated Norseman II, soon followed, but it was soon realized that the airplane was underpowered. This led to the production of the Norseman III, powered by a 450-hp Pratt & Whitney Wasp engine, and the Norseman IV, powered by the 550-hp Pratt & Whitney R-1340-AN-1 Wasp. With the larger engine, the airplane now lived up to all expectations.
When WWII created a need for versatile and tough utility aircraft, the Norseman was purchased by both the Royal Canadian Air Force and the U.S. Army Air Force (USAAF), under the name Norseman VI (the number "V" having been reserved by chief designer Bob Noorduyn for the first civilian model produced after "V-Day.") The USAAF aircraft adopted the name C-64A, and later UC-64A. 764 were delivered to the USAAF alone. Three of these were eventually transferred to the U.S. Navy, which called them JA-1s. In 1946, the Canadian Car & Foundry company acquired the production and sales rights for the Norseman, and continued to build the airplane until 1953.
Used in military service by at least 10 nations during its life, a Norseman is a relatively rare sight outside of Canada, but the ones which are now flown in military colors as privately-owned warbirds attract a lot of attention wherever they go.
Nicknames: Miller-Killer (referring to the disappearance of big-band leader Glenn Miller in December 1944 while flying in a Norseman.)
Specifications :
Engines: One 550-hp Pratt & Whitney R-1340-AN-1 Wasp radial piston engine.
Weight: Empty 4,680 lbs., Max Takeoff 7,400 lbs.
Wing Span: 51ft. 6in.
Length: 32ft. 0in.
Height: 10ft. 3in.
Performance:
Maximum Speed: 162 mph
Cruising Speed: 148 mph
Ceiling: 17,000 ft.
Range: 1,550 miles
Armament: None
Number Built: 903
Number Still Airworthy: ~35.
Links:
Aircraft Resource Center: Norseman Photo Walkaround
Aviation Enthusiast Corner: UC-64A Norseman Page
Canada Aviation Museum Norseman Page
Canadian Bushplane Heritage Centre: Norseman CF-BFT
Norseman Photo Page
Noorduyn Norseman, Inc. -- Thought they no longer manufacture airplanes, the company is still very much alive, and they honor their heritage on this site.
Noorduyn Norseman Website -- A Web tribute from the great-granddaughter of the airplane's designer, and a good source of information.
Norseman Floatplane Festival


[Back to Warbird Alley's Main Page]
---
All text and photos Copyright 2016 The Doublestar Group, unless otherwise noted.
You may use this page for your own, non-commercial reference purposes only.
---