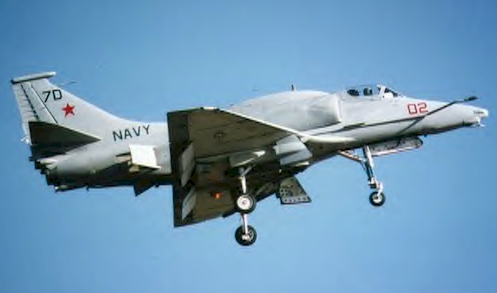 (Photo source unknown. Please contact us if you deserve credit.)
History: Initially dubbed 'Heinemann's Hot Rod' after chief design engineer Ed Heinemann, the A-4 Skyhawk is one of the best jet aircraft to have served with the US Navy and Marine Corps. Chosen to replace the A-1 Skyraider, the A-4's small design and light weight gave it the speed and power to exceed the Navy's specifications and fight on until today in air forces around the world.

The delta wing aircraft houses its avionics in the nose, along with a pair of cannons for dealing with aerial adversaries. The wings hold the fuel tanks, and the Pratt & Whitney turbojet fits snugly in the fuselage. Ordered during the Korean War, the A-4 was delivered to the US Navy VA-72 attack squadron on October 26, 1956. Other squadrons were soon re-equipped as soon as aircraft became available. The Marines began receiving their A-4s in January 1957. By the time of the Vietnam War, all carrier wings had at least two Skyhawk squadrons. The A-4s were soon performing most of the Navy's and Marine Corps' light air attack missions over the jungles and mountains of Vietnam. It was not long before McDonnell Douglas also produced a two-seat trainer, the TA-4. The A-4 has been sold to countries around the world and has seen combat with the air forces of Kuwait, Israel and Argentina. Production finally ceased in 1979.

Until recently, both the US Navy and Marine Corps used A-4s for training purposes. Skyhawks are still found serving as frontline units in several smaller countries. As of 2001, there were nine single-seat Skyhawks and three TA-4s on the US civil register, although not all were airworthy. [History by David MacGillivray]
Nicknames: The Scooter; Bantam Bomber; Heinemann's Hot Rod; Tinker Toy; Mighty Mite; Camel (A-4E and subsequent models with avionics hump); Skyhog; Super Fox (US Navy Fighter Weapons School A-4Fs with bigger engines); Squawk/Kahu (New Zealand); Ahit "Vulture" (Israel); Chickenhawk (Australian Navy).
Specifications (A-4M):
Engine: One 11,200-pound thrust Pratt & Whitney J52-P-408A turbojet
Weight: Empty 10,465 lbs., Max Takeoff 24,500 lbs.
Wing Span: 27ft. 6in.
Length: 40ft. 3.75in.
Height: 15ft. 0in.
Performance:
Maximum Speed at Sea Level: 670 mph
Range: 340 miles with 4,000-pound bomb load
Armament:
Two 20-mm cannon
Up to 9,155 pounds of weapons on five external hardpoints
Number Built: 2,960
Number Still Airworthy: Unknown number in active military service; at least three have been flown as privately-operated warbirds.

[ A-4 Skyhawk Pilot Report by Budd Davisson ]
Links:
Advanced Training Systems International, Mesa, Arizona, USA -- Contract A-4s and instructor pilots.
AeroGroup, Inc., Tulsa, Oklahoma, USA -- Contract fighters available for training, testing and movie work, including a TA-4.
Collings Foundation: TA-4J Skyhawk N524CF
Kiwi Aircraft Images: A-4K Photos
Skyhawk Association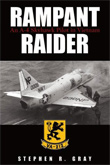 Rampant Raider: An A-4 Skyhawk Pilot in Vietnam
By Steven R. Gray
Hardcover, 384 pages
Published 2007 by Naval Institute Press
A-4 pilot Stephen R. Gray writes about his experiences flying combat sorties from the deck of an aircraft carrier during one of the most intense periods of aerial combat in U.S. history.

McDonnell Douglas A-4 Skyhawk
By Brad Elward
Hardcover, 200 pages
Published September 2000 by Crowood Press (UK)
The most comprehensive book about the A-4 Skyhawk on the market today, this large book contains a detailed history of the airplane and each of its variants; interviews with those who flew it in Vietnam; and many interesting, previously unpublished photos.


[Back to Warbird Alley's Main Page]
---
All text and photos Copyright 2009 The Doublestar Group, unless otherwise noted.
You may use this page for your own, non-commercial reference purposes only.
---