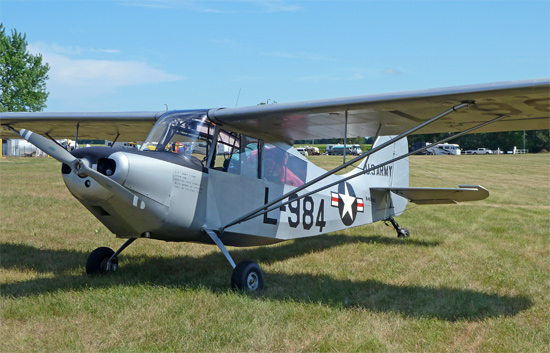 L-16 N4628E at Brodhead, Wisconsin, USA in July 2011.
Photo by Buck Wyndham
History: Like its wartime Aeronca L-3 parent, the L-16 was a US civilian aircraft in military colors. During WWII, the Aeronca 65TC Defender had been pressed into service as the O-58, performing light observation, utility and liaison duties. It was later redesigned, designated the L-3, and served in many theaters and in many diverse roles.
After the war, when US civilian aircraft production resumed, Aeronca upgraded and redesigned its prewar designs into the 65-hp Model 7AC Champ. The Champ quickly became one of the the most popular training aircraft of the post-war pleasure-flying boom. The 7AC, in turn, was soon upgraded to the 7BC, with a larger engine, and was subsequently produced for the US Army under the designation L-16A (85-hp engine) and L-16B (90-hp engine). It served in the Army throughout the Korean War, where it performed many of the same roles it had in WWII: Target-spotting, observation, general utility, and even rescue.
In the late 1950s, quite a few L-16s returned to civilian life, where most of them shed their wartime paint and resumed life as 7BCM or 7CCM Champs, teaching primary students to fly all across the US. Still others went on to serve in the US Civil Air Patrol, a civilian search-and-rescue arm of the US Air Force. As the years have passed, a few have recently been restored to their L-16 livery in commemoration of their unique history. The lineage of these versatile and honest airplanes is such that they do not attract a great deal of attention at warbird gatherings, yet their place in military aviation is undeniable and appreciated by a growing number of enthusiasts and owners.
Nicknames: Grasshopper
Specifications (L-16B):
Engine: One 90-hp Continental C-90-8F or Continental O-205-1 flat-four piston engine
Weight: Empty 870 lbs., Max Takeoff 1,300 lbs.
Wing Span: 35ft. 1.75in.
Length: 21ft. 5.75in.
Height: 7ft. 0in.
Performance:
Maximum Speed: 135 mph
Ceiling: 12,000 ft.
Range: 400 miles
Armament: None
Number Built: Unknown, probably 250+
Number Still Airworthy: Unknown. Probably more than 50 Aeronca L-16s still exist, but many have been converted back to 7BC (or even 7AC) configuration.
Cockpit Photo:



(Click for Larger)
Links:
Aeronca Aviators Club
Citabria Owners Group -- Supports owners of Aeronca wartime models.
Lbirds.com -- A tribute and resource honoring the "Liaison" men and planes of WWII.
National Aeronca Association (USA)
Delaware Aviation Museum -- Operators of an L-16.
Red Sky Aviation -- L-16 and 7AC rentals in Livermore, California.
Books: Browse a selection of books about liaison aircraft.



[Back to Warbird Alley's Main Page]
---
All text and photos Copyright 2015 The Doublestar Group, unless otherwise noted.
You may use this page for your own, non-commercial reference purposes only.
---