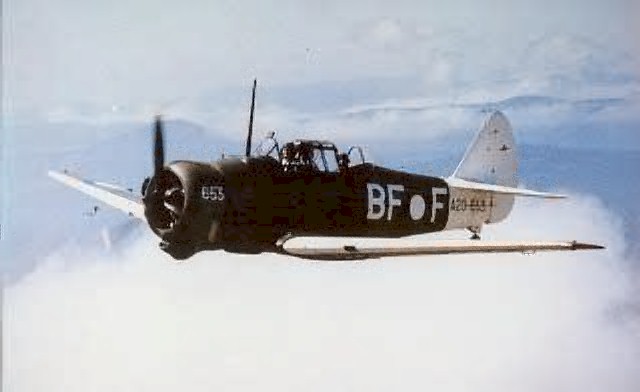 (Photo source unknown. Please contact us if you deserve credit.)
History: Although the Wirraway (an Aboriginal word meaning "Challenger") was designated as the Royal Australian Air Force's (RAAF) advanced trainer during World War Two, its usefulness as a makeshift frontline fighter was secured on 26 December 1942 when a converted example shot down a Japanese navy A6M 'Zero-Sen' fighter. Wirraways saw convoy duty from Darwin, in Malaya, New Britain and New Guinea until mid-1943.
Manufactured under license by the newly-formed Commonwealth Aircraft Corporation (CAC), the Wirraway was a modified North American BC-1 with a three-bladed propeller, two fixed .303-inch machine guns and a third in the rear cockpit, and bomb rack for up to 500 pounds of ordnance.
A total of 755 Wirraways were delivered through 1946. As purpose-built fighters came on line, the plane reverted back to its advanced trainer role for both the Air Force and Navy. The trainer remained in service with the RAAF until 1959 and there are at least six Wirraways flying in Australia today.
Nicknames: Pilot-Maker
Specifications:
Engine: One CAC-built 600-hp Pratt & Whitney R-1340-47 Wasp radial engine.
Weight: Empty 3,980 lbs., Max Takeoff 6,595 lbs.
Wing Span: 43ft. 0in.
Length: 27ft. 10in.
Height: 8ft. 8.75in.
Performance:
Maximum Speed: 220 mph
Ceiling: 23,000 ft.
Range: 720 miles
Armament:
Two forward-firing 7.7-mm (0.303-inch) Vickers Mk V machine guns, plus one more in rear cockpit;
Up to 1,000 pounds of bombs
Number Built: 755
Number Still Airworthy: Six
Links:
Classic Wings magazine: "Wirraway: The Survivors"
CNAPG Wirraway Page


[Back to Warbird Alley's Main Page]
---
All text and photos Copyright 2016, The Doublestar Group, unless otherwise noted.
You may use this page for your own, non-commercial reference purposes only.
---