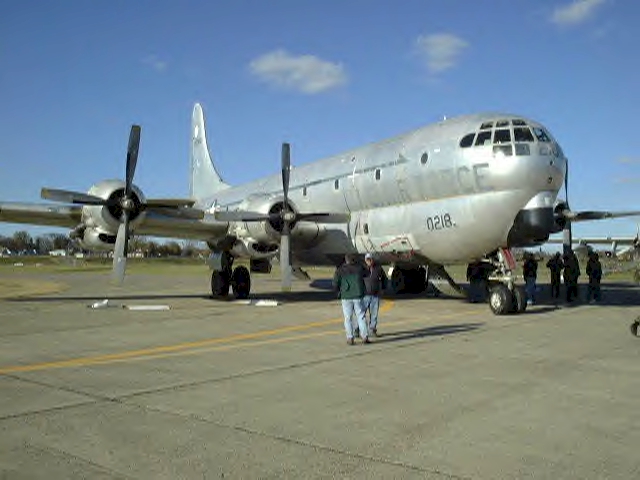 (Photo source unknown. Please contact us if you deserve credit.)
History: In 1942, the Boeing Company began to study a design proposal which would modify their B-29 Stratofortress bomber into a transport aircraft. A US Army Air Force contract was awarded in early 1943, and the first Boeing Model 367 (designated the XC-97) made its first flight on 15 November 1944.

The XC-97 had a lot in common with the B-29. The tail, wing and engine layout were nearly identical, and the fuselage consisted of an existing B-29 structure with a larger fuselage grafted on top, creating what became known as a "double-bubble" fuselage.

Several prototypes were manufactured to evaluate various mission roles and internal layouts. The YC-97 was a cargo transport, the YC-97A was fitted as a troop carrier, and YC-97B had 80 airliner-style seats installed. The first production C-97A transport appeared in 1947, and several variants of the aircraft were used throughout the late 1940s and early 1950s, but it was the newly-formed Strategic Air Command which benefited most from the aircraft, in the form of its next variant, the KC-97 Stratotanker. Boeing fitted the airframe with a flying-boom type refueling probe and added additional fuel capacity to make the aircraft an aerial refueling platform capable of servicing most of the days' fighters and bombers. It could also carry a large amount of cargo at the same time. It entered service in 1951, and served well into the 1970s.

Along the way, C/KC-97s were modified for various roles, including the KC-97L, fitted with two General Electric J47-GE-23 turbojet engines; the HC-97G, a search-and-rescue version; and the Spanish export version, the TK-1. The C-97 has also served in many roles in the Israeli Air Force.

Nicknames: None
Specifications (KC-97G):
Engines: Four 3,500-hp Pratt & Whitney R-4360-59B 28-cylinder radial piston engines.
Weight: Empty 82,500 lbs., Max Takeoff 175,000 lbs.
Wing Span: 141ft., 3 in.
Length: 110ft. 4in.
Height: 38ft. 3in.
Performance:
Maximum Speed: 375 mph
Cruise Speed: 300 mph
Ceiling: 30,200 ft.
Range: 4,300 miles
Armament: None.
Number Built: 888 (All variants)
Number Still Airworthy: Two: One C-97 operated as a privately-owned warbird, and one KC-97 operated as a firebomber in the USA.
Links:
The Aviation Zone KC-97 3-view drawings
Berlin Airlift Historical Foundation
Boeing Company C-97 History Page
Federation of American Scientists (FAS) KC-97 Page
Minnesota Air Guard Museum C-97
PhotoVault C-97/KC-97 Photo Page
KC-97 book from Amazon.com:



[Back to Warbird Alley's Main Page]
---
All text and photos Copyright 2016 The Doublestar Group, unless otherwise noted.
You may use this page for your own, non-commercial reference purposes only.
---