---
MENU:
* Aircraft
* Maintenance / Restoration
* Organizations
* Museums
* Major Airshows
* Warbird News
* Fly a Warbird
* Warbird Books
* Pilot Resources
* Miscellaneous Links
* Warbird Alley Products
---
Featured Book: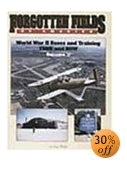 Forgotten Fields of America: World War II Bases and Training, Then and Now -- Volume 2

By Lou Thole
Published February 2000 by Pictorial Histories Publishing Co.
Paperback, 164 pages.
An interesting summary of 12 wartime-era military bases and the intense aircraft flight training conducted at them. Includes over 200 "then-and-now" photos, and an extensive appendix listing the locations of nearly 700 locations throughout the world in WWII.
Price $10.47
(Save 30% off list price!)


---
Submit all news items to:
editor@warbirdalley.com
---
Visit our affiliates:
---



© 2013 The Doublestar Group