---
MENU:
* Aircraft
* Maintenance / Restoration
* Organizations
* Museums
* Major Airshows
* Warbird News
* Fly a Warbird
* Warbird Books
* Pilot Resources
* Miscellaneous Links
* Warbird Alley Products
---
---
Submit all news items to:
editor@warbirdalley.com
---
Visit our affiliates:
---




© 2014 The Doublestar Group

Warbird Alley's
Warbird News
Here's the latest news from the warbird aircraft community.
We update this page regularly. Items are moved to the
News Archive after approximately fourteen months.
Today's Date:



[Click the newspaper to jump to the latest news.]
---
February 2013:
6 February: A 1966 Hispano HA-200 Saeta Jet, N390WW, suffered the collapse of its landing gear during a landing at North Las Vegas, Nevada, USA. The pilot was not injured and the aircraft sustained only minor damage.

6 February: A Hiller UH-12B/OH-23 helicopter, N5072R, made a hard landing at Merritt Island, Florida, USA after a loss of power. One person was injured.

6 February: In a surprise move, the U.S. National Park Service ordered the immediate closure of the delightful Pearson Air Museum, located on historic Fort Vancouver, Washington, USA. A press release from the Trust which operated the museum said the closure was the result of "an unresolved dispute with the National Park Service regarding park use policy."
March 2013:
13 March: A group of business leaders in Wichita, Kansas, USA has united to form "Doc's Friends," a group dedicated to the restoration to flight status of "Doc," a Boeing B-29 Superfortress bomber. Doc spent 42 years on a bombing-range in China Lake, California, and was rescued from an uncertain fate several years ago. [More information>>]

26 March: A Hughes OH-6 Cayuse helicopter, N910WC (s/n 67-16372) crashed near Caddo, Texas, USA. A passenger was killed after the aircraft lost control while hovering over a stock tank and then plunged into the water. The pilot suffered only minor injuries.
April 2013:
May 2013:
5 May: A Hispano Aviacion HA-200D Saeta jet, EC-DXR (c/n 20-56), crashed into a hangar during an airshow near Madrid, Spain. The 34-year old pilot died at the hospital, and several people at the scene were reported to be injured. The aircraft appeared to perform a slow-speed wingover-type maneuver, and did not recover before ground impact.
June 2013: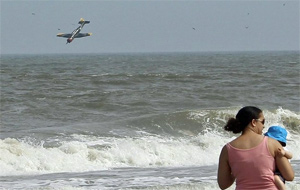 Photo courtesy AP
July 2013:
August 2013:
September 2013:
October 2013:
November 2013:
December 2013:
January 2014:
9 January: Supermarine Spitfire MkXVIIIe G-BUOS (XM845) is back in the air. The aircraft made a successful post-restoration flight at Duxford, Cambridgeshire, UK. The aircraft was involved in a fatal accident in Norway in August 2010 [2010 News Archive>>]

14 January: South Africa's Thunder City owner Mike Beachy Head made the first flight in five years of his rare English Electric Lightning T.5, ZU-BBD (XS452). It is the only Lightning in airworthy condition. [Video>>]
18 February: A 1953 Hawker Sea Fury FB.10, N13HP (c/n 37536), crashed under unknown circumstances in a heavily-wooded area near Breckenridge, Texas, USA. Owner/pilot Ray Hofman was killed.

22 February: A 1958 Beechcraft T-34 / A-45 Mentor, N666 (c/n GM141), lost engine power just after takeoff from Hollister, California, USA, and made a rough forced landing on vacant land adjacent to the airport. The pilot was injured and "life-flighted" to the hospital. The airplane was substantially damaged. [Editor's note: Can we finally retire this N-number now?]

25 February: A 1954 Douglas C-118A Liftmaster, N351CE (c/n 44599), operated by a cargo company, encountered severe turbulence near Emmonak, Alaska, USA, resulting in damage to its wing. The aircraft landed safely. No one onboard was injured.
March 2014:
April 2014:
11 April: Despite many months of mediation and negotiations, the Fort Vancouver National Trust and the National Park Service failed to come to an agreement that would have allowed the historic Pearson Air Museum in Vancouver, Washington, USA to resume operation. The Trust plans to continue its operations in various ways in the local area, but not as a resident in the museum buildings.



Facebook Users: Like this News Page.

---
---
Got news?
Please help us spread the word by sending an e-mail to:
editor@warbirdalley.com

Thank you for your interest, and for helping us
to make this a valuable resource.
Note: Warbird Alley makes every effort to verify and substantiate all news stories presented here. We make no claims as to the ultimate validity of any entry, and we deny liability for claims arising from inaccuracies or omissions.
© 2014 The Doublestar Group
All Rights Reserved