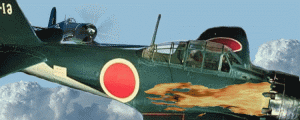 (Animation created by Graham Ward.)
The following books are available for immediate, on-line purchase from Amazon.com.
Important Note: Please use the links on our pages to order your books, or we will not be credited with the sale. If you wish to order more than one book, add the first item to your shopping cart, then return to our site and select your next book.

Corsair KD431: The Time Capsule Fighter
By David Morris
Hardcover, 224 pages
Published July 2006 by Sutton Publishing/Motorbooks

This book details the impeccable restoration of Corsair KD431 by the Fleet Air Arm Museum in Yeovilton, UK, creating what is probably the world's most authentic and original vintage aircraft. This fascinating book will appeal to warbird enthusiasts, historians, researchers, detailers, modelers, pilots, and anyone with an interest in WWII history. (NOTE: You can order this book now and it will be shipped to you upon its release in July.)


Bent Wings -- F4U Corsair Action and Accidents
By Fred Blechman
Paperback, 376 pages
Published 1999 by Xlibris Corporation

The author, a Korean War-era Corsair pilot, takes you right inside the cockpit of an F4U in combat with his vivid description and storytelling ability.

Price $22.99




Corsair: The F4U in World War II and Korea
By Barrett Tillman
Paperback, 219 pages
Published 2002 by Naval Institute Press

The story of the airplane that became a legend. This fast-paced book includes facts and conventional history, but also the human dramas of the many men who piloted them to fame.

Vought F4U Corsair (Warbird Tech Series, Vol. 4)
By Barrett Tillman
Paperback, Published 2001 by Specialty Press

Revised and updated with color photos, this book examines the design and construction of the Corsair, and includes details about air racing modifications, Korean versions, carrier operations, etc.)

Price $11.87 (Save 30% off list price!)




No Photo
of this Book
Available


Pilot's Handbook for Navy Models F4U-5, -5N, -5N1, -5P Corsair
Paperback, 102 pages
Published 1995 by Schiffer Publishing Ltd.

A facsimile reprint of the original flight manual for the F4U-5 Corsair, as originally published in 1951. Includes details of all cockpit instrumentation, normal and emergency checklists, descriptions of operations equipment, performance charts, and much more.

Corsair Aces of World War 2 (Osprey Aircraft of the Aces #8)
By Mark Styling and Jerry Scutts
Paperback, 96 pages
Published 1995 by Motorbooks International

Many interesting first-hand pilot accounts of Corsair combat missions in the Pacific, plus photographs and detailed color aircraft profiles.


Roaring Glory Warbirds, Volume 7: Vought F4U Corsair (DVD)
Produced by By Navarre Video
Color, Not Rated, Region 1 (USA and Canada)
Released 1998

With modern color footage of the Planes of Fame Museum's Corsair, a detailed look inside the cockpit, WWII archival footage, and an original pilot training film, this DVD is chock-full of entertainment. However, this is more than just a video -- it allows you to view a complete Pilot's Handbook on your computer, as well.
Can't find what you're looking for?
Search Amazon.com for other great books here:
Your purchases directly support the improvement
and growth of the Warbird Alley web site.
Thank you!

Prices listed are subject to change, and Warbird Alley makes no guarantee that all listed books will be available at all times.
---

[ Back to F4U Corsair Page ]

© 2011 The Doublestar Group, All Rights Reserved